Table of Contents
Investing in Social Good is Finally Becoming Profitable
by James Lange, CPA/Attorney
The headline above is not my own. It was literally ripped from the pages of The New York Times. The article ran in the print edition of the paper on August 29th.
Coincidently, just a few weeks earlier on August 12th, I had co-hosted my first webinar about socially responsible and environmentally sustainable investing.
I've been interested in impact investing (a blanket term that is often used to describe environmentally conscious and socially responsible investing) for a long time. But, like many other investors, I'd always assumed that impact investing, while good for the planet, would force investors to accept a smaller return with additional risk.
So, long story short, before this year, I'd never done very much research about the opportunities available in this arena of investing. But, earlier this year, I started hearing more and more buzz about sustainable and socially responsible investing from advisors and money managers I respected. They were talking about comparable returns on investments which surprised me.
I was intrigued, so I did some research. As most of you know, I'm a huge fan of Dimensional Fund Advisors (DFA) because I believe, they have developed what is arguably the best set of enhanced index funds on the planet. And I knew that Dimensional has designed mutual funds to meet the growing demand for socially screened and sustainability investments, so I decided to start there.
I took a hard look at the historical performance of DFA's sustainable and socially screened funds and the data was impressive. As it turns out, on a number of relevant points of comparison, historical returns on portfolios built using DFA's socially responsible and sustainable funds have consistently equaled or even exceeded those of comparably allocated portfolios built using more traditional funds without additional risks.
Honestly, learning that there are real opportunities for low-cost index investors to incorporate impact investments into their portfolios without necessarily taking a financial hit in the process was a bit of a shocker for me. And I wanted to share this information with my clients, readers, and friends. So, I reached out to DFA. They were delighted to allow Will Collins-Dean, one of their top experts on the subject, to join me for a webinar.
During his portion of the webinar, he provided great information. He discussed how Dimensional's Responsible Investment offerings have evolved over time, provided information about the social and sustainability criteria that Dimensional uses to screen the companies it includes in those offerings, and looked at the historical performance of portfolios built using those offerings.
Naturally, at the moment most people, myself included, would say that the most urgent problem facing our country and the world community at large is the COVID-19 pandemic and that eliminating or controlling the virus is the most important goal that we should be working toward. But, in the big picture, I believe that global warming is truly mankind's greatest challenge.
I had to leave my rental in Colorado early because the smoke from the uncontrollable forest fires burned my lungs and eyes. Now where I am staying in Heber, Utah, we are experiencing smoke from the out of control forest fires in California. Forest fires are nothing new, but the Union of Concerned Scientists have stated "While fire is a natural and essential part of these ecosystems, warming temperatures and drying soils—both tied to human-caused climate change—have contributed to observed increases in wildfire activity."
The forest fires raging across the western United States have, among other things, temporarily displaced many people from their homes, decimated tens of thousands of acres of forest that, according to researchers, may never grow back, and exposed millions to unhealthy and even hazardous air quality. But, sadly, these real and severe consequences pale in comparison to those that are yet to come if we continue to do little to address global warming.
The environmental ravages of global warming have already rendered many communities uninhabitable and if nothing is done to limit the emission of greenhouse gases, entire regions of the world will follow suit. Millions upon millions of people will be displaced and global food supplies will be decimated. This isn't just an environmental issue, it's an existential threat to humanity.
Given the gravity and urgency of this threat, many of us want to do something.  And while the government policies are important, sustainable investing provides us as individual investors with the opportunity to make a meaningful contribution. And, if, as the historical data tells us, making impact investments won't necessarily cost us any money, it makes sense to, at a minimum, consider more sustainable investments.
So, with that in mind, here is a replay link that you can use to watch our August 12th webinar, which was entitled Environmental and Socially Responsible Investing and Getting the Most Bang for Your Charitable Buck: https://paytaxeslater.com/SociallyResponsibleWebinar.  You can also read the webinar transcript at https://paytaxeslater.com/SociallyResponsibleWebinarTranscript.
If you are interested in learning more about investing with companies whose values and core missions align with your own, I would highly encourage you to watch at least the first half of the webinar. During the second half, I talk about different charitable giving techniques for IRA and retirement plan owners.
If after watching the webinar you would like to consider taking action, please give Alice a call at 412-521-2732.
I think the information in the webinar about environmentally responsible investing could be of particular interest to two groups of investors. The first group is investors who have assets under management with our firm and our DFA partners, DiNuzzo Index Advisors, and Buckingham Strategic Wealth. For the same fees and working with the same advisors and CPAs from our office, you could consider switching or at least supplementing your portfolio with socially responsible investments. The only out-of-pocket cost I see with this switch may be the sale of some securities outside your IRAs and retirement plans that would incur a capital gain. Switching IRA and Roth IRA accounts should not have any costs associated with them.
The second group is investors who are not currently using our assets under management services, but who are interested in socially responsible investing and don't know where to go or how to approach socially responsible investing. Watching this webinar and taking the next step by reaching out to our office to discuss the possibility of working with us and one of our partner DFA firms to develop your own socially responsible portfolio would be a valuable first step. And, bonus, doing so might also actually improve your financial position and better protect your family.
If you are interested in taking the next step to consider impact investing, please call Alice at 412-521-2732.
Content provided is for informational purposes only and should not be used or construed as investment advice or a recommendation regarding the purchase or sale of any security. Socially Responsible Investments may not be suitable for all investors. Investment choices should be discussed with your advisor prior to implementation. Past performance may not be indicative of future results. Investing in securities involves risks, including the potential for loss of principal. There is no guarantee that any investment plan or strategy will be successful.
---
Your Notes of Gratitude Are Truly Appreciated
I felt very strongly about sending masks to charities, health organizations (to provide to patients and their families), family, friends, and clients, but I could not have anticipated the outpouring of appreciation we have received. One particular thank you note was so compelling, it inspired me to buy even more masks—after distributing 5,000 masks, I bought another 5,000. Then, another 10,000! If ever you thought a thank you note was unappreciated, or inconsequential, please think again.
With the additional 10,000 masks, I will do my best to honor all personal requests for masks, and I am working on fulfilling requests from charities. You should send an email requesting additional masks to requests@paytaxeslater.com, but please understand if I don't return a personal reply. Once again, I would like everyone to know that I have been overwhelmed by the outpouring of gratitude. Please stay safe and healthy. Thank you.
---
Offering You…Four Different FREE Webinars this September
We are offering the following four FREE Educational Webinars.
On Tuesday, September 29th, 2020
Webinar #1
10 am – 12:00 PM (Eastern): The Best Estate Plan for Married IRA Owners After the SECURE Act: Our Tax-Savvy Thinking 
Webinar #2
12:30 – 2:30 PM (Eastern): Live Q&A with Jim Lange: Your Questions Answered on IRAs, SECURE Act and More 
---
Wednesday, September 30th, 2020
Webinar #3
10:00 AM – 12:00 PM (Eastern): Urgent Action for Tax-Savvy IRA and Retirement Plan Owners to Take Before Year End — 6 Proven Strategies to Help Protect Your Family from Devastating Tax Acceleration Losses
Webinar #4
Session 4: 12:30 – 1:30 PM (Eastern): Solving the Investor's Biggest Dilemma: How to Stop Market Volatility from Crushing Your Retirement Nest Egg in the Next Stock Market Downturn
To sign up for one or ALL of the FREE Webinars listed above, please go to https://paytaxeslater.com/2020Webinars
---

Sudoku Puzzle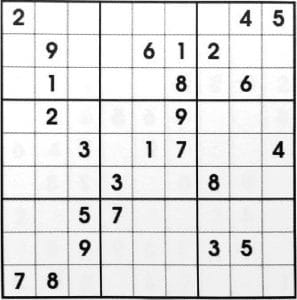 ---


Tomatillo Chicken
Serves: 4
Prep. Time: 20 minutes
Cook Time: 40 minutes
1 medium yellow onion, quartered

2 large bone-in, skinless chicken breasts [or 4 (6 ounce) boneless, skinless chicken breasts]

¾ teaspoon sea salt

3 large tomatillos, husked and quartered

½ cup toasted pepitas, plus more for garnish

1 bunch cilantro, plus additional chopped leaves for garnish

2 serrano chiles, seeded and chopped

1 garlic clove, halved

5 ounces baby kale

1 tablespoon grapeseed oil
Reserve one-quarter of the onion. Place the remaining onion and the chicken in a large saucepan. Add 4 cups of water and ½ teaspoon of the salt and bring to a boil. Reduce the heat to low and poach until the chicken is just cooked through, about 15 minutes. Transfer the chicken to a plate, discard the onion, and reserve the cooking liquid.
Place the tomatillos, pepitas, cilantro, chiles, garlic, reserved onion, 1 cup of the kale leaves, 1 cup of the chicken cooking liquid, and the remaining ¼ teaspoon salt in a blender. Puree until very smooth, 1 to 2 minutes.
Heat the oil in a large saucepan over medium-low heat. Add the tomatillo mixture; be careful, as it will splatter. Cook, stirring continuously until thickened to a paste, about 10 minutes. Stir in 1½ cups of the chicken cooking liquid. Simmer, stirring occasionally, for 10 more minutes.
Pull the chicken meat from the bones and tear it into large chunks. Add the chicken and remaining kale to the pan and gently stir until the chicken is hot and the kale just wilts, about 1 minute.
Divide among four serving plates, garnish with pepitas and cilantro, and serve.