Do Roth IRA Conversions Make the Rich even Richer? Will This Change After the Death of the Stretch IRA?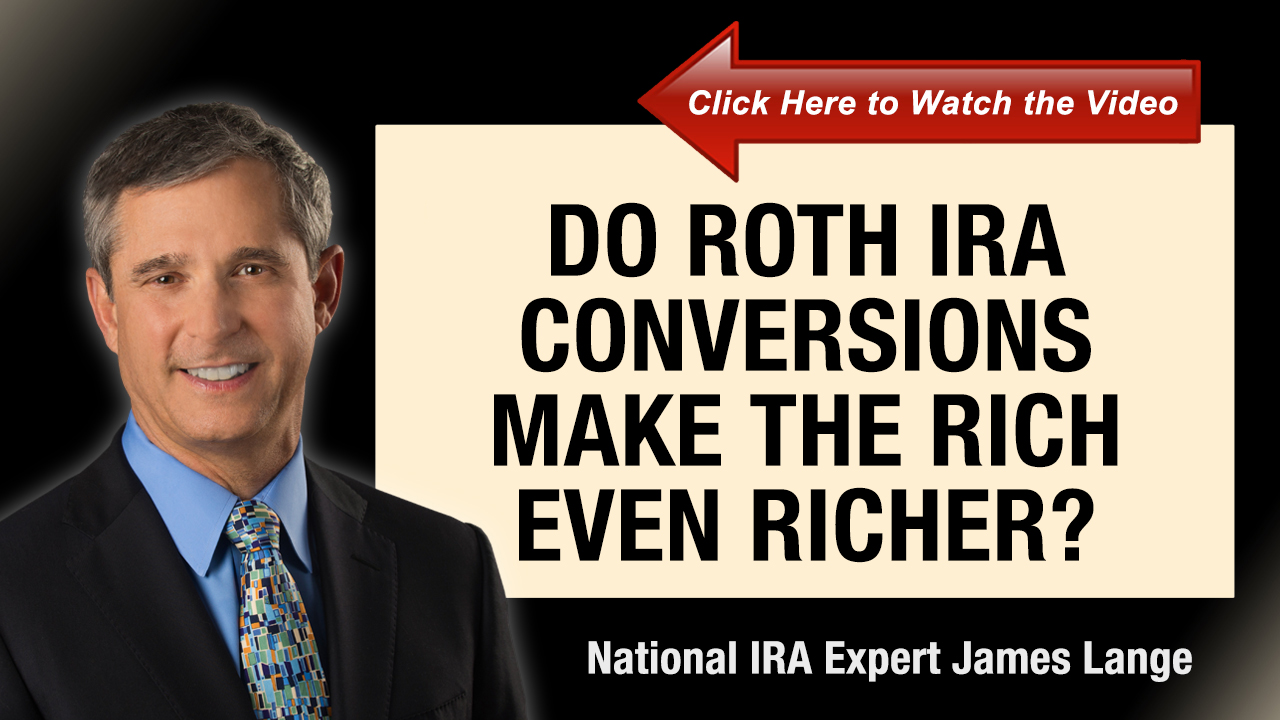 My most recent blog posts have been about Roth IRA conversions, and how they might benefit you under both existing law and the proposed law that would spell the Death of the Stretch IRA.  This post continues this discussion, and outlines the benefits of transferring Roth IRAs to your children.
How Do the Rich Get Rich? 
There's been a lot of media coverage about rich people lately, have you noticed?  The rich don't pay taxes!  The rich are getting richer!  And so on.  Well, I'm going to go out on a limb here and suggest that there are many rich people who don't deserve all of the abuse they get about their wealth.  Are there rich people who get their money from stealing and cheating?  Certainly, and I hope the long arm of the law finds every one of them and brings them to justice.  But I have many clients who are, by most people's standards, rich – and not one of them ever failed to pay their taxes, or stole their money from someone else.  Most of them had decent but not high-paying jobs, and the vast majority of them didn't inherit their wealth either.  So how do the rich get rich, and how do they continue to get richer?
In the late 1960's, Stanford University conducted a study where the children who participated could receive a small reward (a marshmallow) immediately, or choose to receive a larger reward (two marshmallows) after waiting a short period of time.  Some of the kids, of course, ate the marshmallow immediately.  Others, though, waited for what probably felt like a lifetime, and were rewarded with the second marshmallow.
Most of my clients are two-marshmallow people.  This means that during their lifetimes, every financial decision they made considered both the short-term and long-term benefits.  Could they afford the monthly payment on a Cadillac?  Probably, but they opted for Fords instead and banked the difference between the monthly payments.  Could they use credit to buy new living room furniture?  Yes, but they waited until they had enough money saved up to pay cash because they wanted to avoid paying interest on their purchase.  Two-marshmallow people understand that sometimes it makes sense to do with less now, in exchange for a bigger payoff in the future.  That's how many of the rich get rich in the first place, and could be why the rich continue to get richer.  And a similar mind set could be a lifesaver for you when the Death of the Stretch IRA legislation is passed, and you are scrambling to find ways to keep your hard-earned money out of the hands of the government.
Roth IRA Conversions: Not Just For Rich People Who Don't Want to Pay Taxes
Many uninformed individuals think that strategies like Roth IRA conversions are simply tools designed to allow rich people to get richer, and to avoid paying taxes.   That's not exactly true.  Roth IRA conversions can help anyone, not just rich people, get richer and avoid paying more taxes than necessary.    In fact, I would argue that Roth IRA conversions can be of more benefit to someone who isn't rich, because an additional $50,000 over the course of their lifetime would probably be far more important than it would be to someone who has more money than they can ever spend.  But Roth IRA conversions can make a lot of sense if you are a two-marshmallow person, regardless of how much money you have.  And it's especially true if your money lasts longer than you do, and you end up transferring your IRAs and retirement plans to your children.  Roth IRAs can make a significant difference for your heirs in light of the Death of the Stretch IRA.
Transferring Roth IRAs to Your Children
The video in this post compares two individuals – one makes a Roth IRA conversion of $100,000 and the other does not.  The conversion provides a small benefit during the Roth IRA owner's lifetime – so even though he pays taxes on the conversion amount, he still ends up with two marshmallows.  But suppose he never spends the money and, at his death, the Roth IRA is transferred to his children?   Over the course of their lifetimes, the children get ten marshmallows.  And suppose his children don't spend the Roth IRA, and instead transfer it to their own children (preferably by disclaiming it to a trust).  Over the course of their lifetimes, the grandchildren get an entire bag of marshmallows!
So did the rich get richer?  Yes.  Did they do anything illegal, or anything that you can't do yourself?  No.  Roth IRA conversions were the brainchild of the government – they want you to pay taxes sooner than you have to so that they have more money to spend.  You may have change your way of thinking to that of a two-marshmallow person, and possibly do with less now in exchange for a greater payoff down the road.  But doing so can enable you to create your own family dynasty that will benefit your heirs for generations to come, and help them offset the devastating effects of the Death of the Stretch IRA.
Stop back soon for more Roth IRA conversion talk!
-Jim
For more information on this topic, please visit our Death of the Stretch IRA resource.
P.S. Did you miss a video blog post? Here are the past video blog posts in this video series.
Will New Rules for Inherited IRAs Mean the Death of the Stretch IRA?
Are There Any Exceptions to the Death of the Stretch IRA Legislation?
How will your Required Minimum Distributions Work After the Death of the Stretch IRA Legislation?
Can a Charitable Remainder Unitrust (CRUT) Protect your Heirs from the Death of the Stretch IRA?
What Should You Be Doing Now to Protect your Heirs from the Death of the Stretch IRA?
How Does The New DOL Fiduciary Rule Affect You?
Why is the Death of the Stretch IRA legislation likely to pass?
The Exclusions for the Death of the Stretch IRA
Using Gifting and Life Insurance as a Solution to the Death of the Stretch IRA
Using Roth Conversions as a Possible Solution for Death of the Stretch IRA
How Lange's Cascading Beneficiary Plan can help protect your family against the Death of the Stretch IRA
How Flexible Estate Planning Can be a Solution for Death of the Stretch IRA
President Trump's Tax Reform Proposal and How it Might Affect You
Getting Social Security Benefits Right with the Death of the Stretch IRA
The Best Age to Apply for Social Security Benefits after the Death of the Stretch IRA
Part II: The Best Age to Apply for Social Security Benefits after the Death of the Stretch IRA
Social Security Options After Divorce: Don't Overlook the Possibilities Just Because You Hate Your Ex
Is Your Health the Best Reason to Wait to Apply for Social Security?
Roth IRA Conversions and the Death of the Stretch IRA
How Roth IRA Conversions can help Minimize the Effects of the Death of the Stretch IRA
How Roth IRA Conversions Can Benefit You Even if The Death of Stretch IRA Doesn't Pass