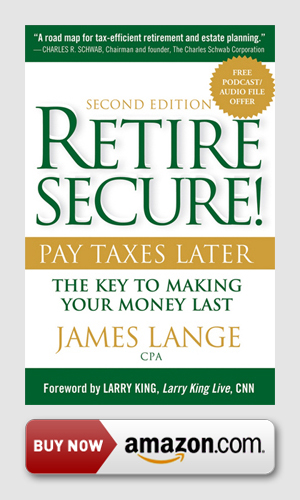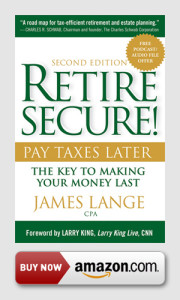 In the new and revised edition of Retire Secure!, James Lange supplements his tried and true tax saving strategies for getting the most out of your IRA and retirement plans with updated information and his latest recommendations for the new Roth vehicles. Always a strong proponent of contributing as much as you can to all the tax-deferred retirement plans available to you, Jim makes a convincing case for adding a slight modification to his pay taxes later adage—pay taxes later, except for the Roth.
On the accumulation side of the equation, when individuals are working to save money for retirement, he delves into great detail on the differences between traditional 401(k)s and 403(b)s and Roth 401(k)s and 403(b)s.  When it comes time to tap into your retirement savings, Jim revisits determining the appropriate spending order for the different classes of retirement assets, IRS minimum distribution rules, and annuities—all with updated information. But he has also written a whole new chapter on Roth IRA conversions. A significant portion of the new chapter is a discussion of the opportunity in the year 2010 for higher income taxpayers to move into the Roth environment.
Finally, he addresses the challenges that retirees face when mapping out their estate plan—choosing beneficiaries, reducing federal estate taxes, and leaving legacies for both family and charities. In this section too, Jim has written a new chapter on what he believes may be the best way to provide financial security for your children: survivorship life insurance.  Never one to shy away from looking at both sides of any decision—the pros and the cons—Jim skillfully analyzes the merits of his recommendations and each chapter offers realistic case studies based on his accumulated experience and rigorous analysis. Retire Secure! Pay Taxes Later offers everyone a better chance at accumulating enough money for retirement, but perhaps more significantly, it offers tested strategies for making your retirement money last throughout your life and your spouse's life and even through the lives of your descendants. The icing on the cake is how to prudently pass on money to your heirs and charities.