Table of Contents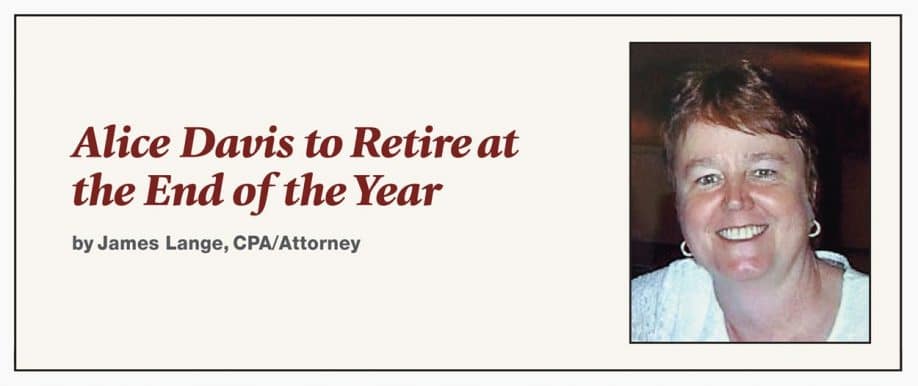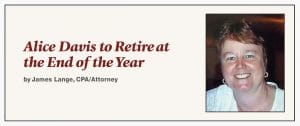 Alice Davis to Retire at the End of the Year
by James Lange, CPA/Attorney
Our long-time Client Service Coordinator and the face of Lange Financial Group, LLC, Alice Davis, has announced that she will retire at the end of the year.  We totally support her decision, but oh how we will miss her!  Alice's warmth, welcoming smile, and cheerful chuckles have been greeting clients and prospective clients for 18 years.
If you call and she doesn't answer the phone, you wonder what could be wrong?  If you called with a problem, you knew Alice would work for a solution and connect you with the person who could help—frequently, Alice herself.
For all the years we were conducting in-person workshops, Alice was always the first person you would meet, and she set the tone for what was to come—some serious discussion interspersed with humor.  And behind the scenes, she is a tireless worker—especially during tax season!  We are all so grateful for her years of dedicated service and friendship, but I am especially grateful for the rapport she and I developed over the years—she was so good at anticipating exactly what was needed—especially what I needed to keep up with my schedule.
Alice had mixed feeling about the decision.  She has loved working with us and loves our clients and many of you love her too.  But a serious health issue last year motivated her to reorder her priorities.  She and her husband, Bob, have other things they want to do together, and of course, she is a devoted mother and a more devoted grandmother.  She will likely help us out on some projects in the future—her store of knowledge is deep—but she won't be in the office.
We knew this day would come, eventually, so over the last several years, we have hired three more members for our support team—that gives you some indication of how much we have benefited from Alice's work ethic.
If you wanted to drop Alice a line, I am sure she would enjoy hearing from you.  We will maintain and forward her email, which is alice@paytaxeslater.com as well as any personal mail that is addressed to her.
Though we will never be able to replace Alice, we are fortunate to have found a wonderful person, Diana Koch, to take over Alice's responsibilities. Diana was the top choice of me, Matt Schwartz, Shirl Trefelner, our headhunter, Janet Winschel, and Alice herself.  Diana began working for us on November 16, 2020, to work with Alice for six weeks to learn the ropes.
---
The Election Results Combined with the MASSIVE NEW TAX Hike Hiding in
"The SECURE Act" Create Enormous Opportunities and Pitfalls
Most Savvy IRA Owners Need To Take Action Before Year-End
Webinar Dates: Tuesday & Wednesday, December 1 & 2, 2020
Register to attend at www.PayTaxesLater.com/2020Webinars
TUESDAY, DECEMBER 1, 2020 • SESSION 1: 10 AM – NOON
The Best Estate Plan for Married PA Resident IRA Owners After the Secure Act: Our Tax-Savvy Thinking
The profoundly negative impact of the SECURE Act on Required Minimum Distributions (RMDs) of Inherited IRAs and retirement plans. How this change will diminish your legacy, and what you can do to minimize its impact.
Depending on the election outcome, the federal estate tax exemptions are likely to change. In 2020 the exemption stands at $11.58 million per person.
That exemption "sunsets" in 2025 and reverts back to $5 million for an individual taxpayer. We will cover strategies for that eventuality.
Do you need to redraft their trusts now that the SECURE Act has become law? You need to find out.
Should your heirs inherit your IRA directly, or would naming a trust be safer?
Surprise Finding: Charitable Remainder Trusts—even if you are not charitably inclined—could be financially advantageous for your family.
What you should do if you have children of unequal financial strength.
A unique multi-generational plan that could save hundreds of thousands of dollars for the grandchildren
TUESDAY, DECEMBER 1, 2020 • SESSION 2: 12:30 – 2:30 PM
A Live Q&A with James Lange: Your Questions Answered on IRAs, SECURE Act & More
Jim will answer viewer's questions submitted in advance of the webinar as well as during the webinar. Don't miss this opportunity to have your questions answered.
WEDNESDAY, DECEMBER 2, 2020 • SESSION 3: 10 AM – NOON
Urgent Action for Tax-Savvy IRA and Retirement Plan Owners to Take Before Year-End—6 Proven Strategies to Help Protect Your Family from Devastating Tax Acceleration Losses
Learn what actions should be taken before year-end.
Learn how to avoid the decimating taxes after the SECURE Act.
Using Roth conversions to minimize taxes on your IRA income for decades for both you and your heirs.
How to optimize your Social Security distributions.
Gifting strategies after the SECURE Act.
The appropriate reaction to the election results.
WEDNESDAY, DECEMBER 2, 2020 • SESSION 4: 12:30 – 2:30 PM
A Live Q&A with Larry Swedroe and Adam Yofan of Buckingham Strategic Wealth: Your Questions Answered on Investing, Wealth Management, and Preservation & More
Larry Swedroe, Chief Research Officer of Buckingham Strategic Wealth, educates individuals on the benefits of evidence-based investing. Larry has authored 9 books and co-authored 7 books on investing, including his newest book, The Incredible Shrinking Alpha: How To Be A Successful Investor Without Picking Winners, 2nd Edition. Larry has made appearances on NBC, CNBC, CNN, and Bloomberg Personal Finance.
Adam Yofan, CPA, PFS, leads Buckingham's Pittsburgh office. Adam navigates clients toward financial clarity by defining goals and needs, reviewing assets, providing recommendations, implementing and managing portfolios, and tracking progress as they pursue well-defined goals.
Register today at www.PayTaxesLater.com/2020Webinars
Past performance is no guarantee of future results. All investing involves risk, including the potential for loss of principal. There is no guarantee that any strategy will be successful. Indexes are not available for direct investment.
---
2020 Year-End Tax Planning Report
by Glenn Venturino, CPA and James Lange, CPA/Attorney
With year-end approaching, let's look at some tax-planning strategies that can help lower your 2020 tax bill. When it comes to tax planning and paying income taxes, it's usually not what you know but rather what you don't know that can leave you with unhappy tax results. Please read our 2020 Year-End Tax Planning report available at https://PayTaxesLater.com/2020YearEndTaxPlanning/.
---

Stem Cell Update
by James Lange, CPA/Attorney
It seems I get almost as many questions about stem cells as Roth IRA conversions, so let me offer this quick review and update.
I have had psoriatic arthritis, which falls in the category of an autoimmune disease, for more than 30 years. At one point it was difficult for me to walk a city block. Then, I had a lot of success with a drug called Enbrel®, which is basically an immunosuppressant.
Then, the effectiveness of the drug diminished, and I tried a few more including Humira® and now Cosentryx®. After a lot of research and soul searching, I decided to try mesenchymal stem cell treatments. At the time, I didn't think you could get that type of treatment in the U.S., so I traveled to Panama for treatment. Panama City is a wonderful tourist destination. They have gorgeous beaches, a great Bio-Diversity Museum, and the tour of the canal is fascinating.
While I would not call the results miraculous, I definitely felt better. My pain levels went down, and my mobility went up.
For the next two years, I went to Mexico for treatment. They not only treated me systemically but also locally in problem areas (shoulders and knees). I was less dependent on Cosentryx®, and I was doing better and better.
I then found a place in Salt Lake City that also offered mesenchymal cell treatment. I went there about a year ago and was also treated systemically and locally. In addition to the normal systemic treatment, I received local treatments in both my shoulders, both knees, my two big toes, and my right ankle. They also have a more controversial treatment that injects stem cells into your brain through the nasal cavity. If you are into short-term extreme pain, I highly recommend that treatment.
The normal progression with psoriatic arthritis is that the patient usually gets worse with time. I am getting much better. In addition, I only get about five injections of Cosentryx® per year instead of the regular once a month injection.
Please note clients have mentioned different types of stem cell treatments that are more readily available. The most common is where they use your own stem cells for treatment. I am not saying that isn't effective or isn't a good idea, but those treatments are much different. Mesenchymal cells are harvested from umbilical cords.
Most MDs, including mine, will say more research is needed, and we don't have enough peer-reviewed studies for them to give the treatment their blessings. Both my rheumatologist and my concierge medicine doctor, while not encouraging me, at least didn't discourage me from getting treatment. Obviously, I would prefer it if the treatments had received conclusive peer-reviewed approval. But based on everything I have read and from my own personal experience with an autoimmune disease, I think I made a great choice.  I want to write a thank-you note to my past self for making this decision.
Objections
They are expensive. I paid $2,500 per injection, and I was told that was a great deal. The total cost for me this year was $20,000. Had I forgone the local injections, it would have been about $3,000. If I had some, but very limited funds, I would have just done the systemic treatment which is what I started within Panama. I just don't want to be in pain, and I don't want monthly treatments of a powerful drug whose job is to suppress my immune system. Since I have the money and think your health is your best investment, I went for it.
You have to travel to Salt Lake City. I like and trust the people at East West in Salt Lake City. They have treated thousands of patients, and I know and like the owner of the clinic. I heard there was a chiropractor using the same type of cell treatment in Pittsburgh. If anyone is interested, I will pass on his name, but I really don't know much about him at all except he uses the same source of stem cells, which is a good sign.
The treatments aren't fun. For the first time, I was quite sore after treatments this year, but I think that is because I had seven injections in one day. (I had the brain and systemic injections earlier in the month for a total of nine injections.)
But, in conclusion, if you are suffering from an autoimmune disease, I would seriously consider mesenchymal stem cell treatment.
---

Two Perfect Days at the Grand Canyon
by James Lange, CPA/Attorney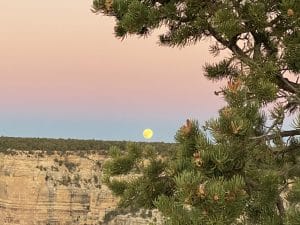 It was 3 a.m. on my last day in Heber, UT, and I was planning my 14-hour drive to Tucson, AZ where I am now. Then, I got the idea of staying at the Grand Canyon for two nights which was not terribly out of the way for my route. I checked the weather which was going to be sunny and decided to go for it.
I arrived late with just enough time to get settled in a hotel that was literally next to the Rim Trail. The next morning, I was still sore from my stem cell treatment and opted to hike along the rim rather than going down into the canyon which I have done several times in the past. The Rim trail is a gorgeous, fairly gentle hike that, as the name suggests, is along the rim of the canyon. I hiked about 5 miles and took a shuttle back to the hotel.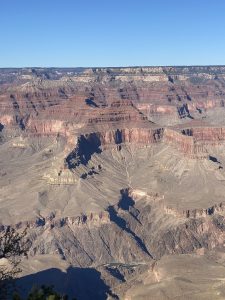 Then, I went for an e-bike ride along the road that basically parallels the Rim Trail. That road is closed to cars except for the shuttle buses. It was wonderful biking on that road with no cars, fabulous scenery, and I wasn't even working hard—can't recommend the e-bikes enough.
I got back from my ride just in time for a spectacular sunset walk with a blue moon. The next morning, I went for a sunrise walk, another bicycle ride, and then drove to Tucson.
I highly recommend the Grand Canyon as part of a western adventure after it becomes safe or at least safer to travel.
This holiday season is challenging for all of us, and many of us will be missing family and friends. I wish everyone the best of health and send hopes for a better time next year.