Table of Contents
Jim Lange Featured in Forbes Magazine
by James Lange, CPA/Attorney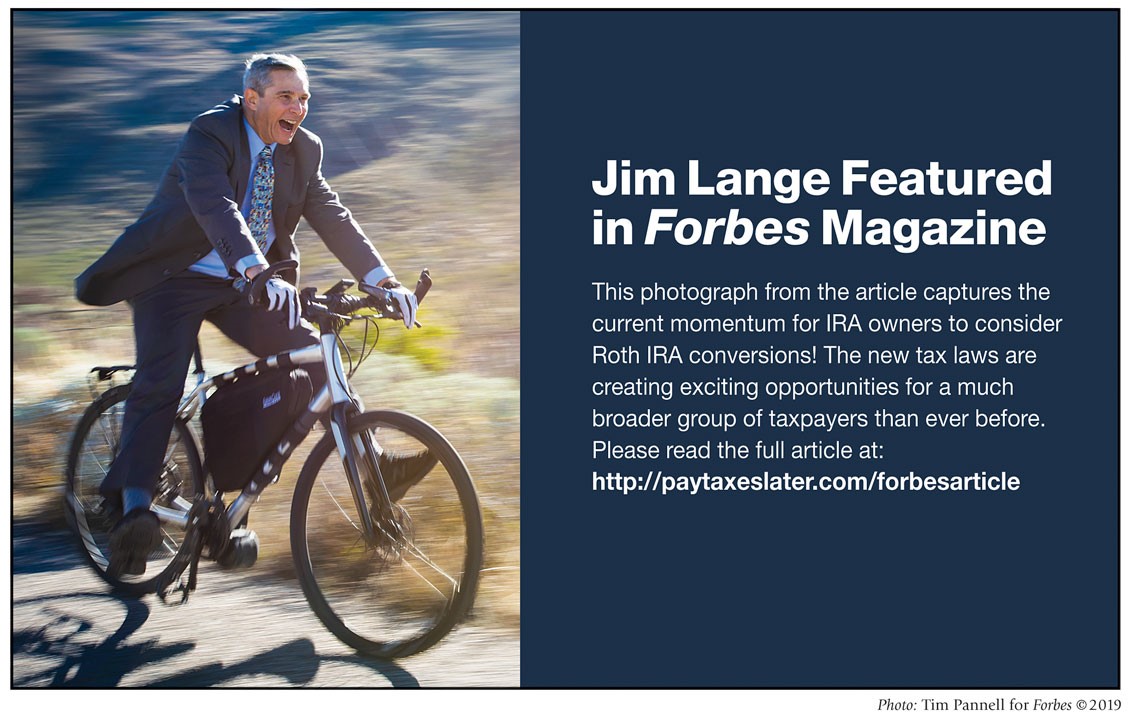 Ashlea Ebeling, a Forbes magazine columnist, called me about writing an article featuring a firm that proactively recommends Roth IRA conversions.  She liked that I wrote the first peer-reviewed Roth IRA conversion article back in 1997 and that I wrote a best-selling book on Roth IRA conversions.  Having worked with Ashlea years ago, I knew that she had a strong background in finance, better than the majority of financial writers, and that she takes the time to get things right.  Seemed like a good fit.
I was expecting a Joe Friday "Just the facts, ma'am" type of article (you can Google the reference, if you need to) and while Ashlea spent a lot of time on "just the facts," she wanted to add some human interest to the article.  She was intrigued that Cindy and I made a $239,000 Roth IRA conversion in 1998 and impressed that we will be $721,339 better off in our lifetime because we made the conversion.  She also was interested that I was spending time in Tucson working on my next book.
I spent a lot of time on the phone and there were a lot of email going back and forth.  Our team sent her mathematical proof of our assertions.  I also spent several hours with the Forbes fact checker.  But I believe we ended up with a great article that will be very informative.
The published article focuses on Roth IRA conversions and why more traditional IRA owners than ever before could, because of the Trump tax laws, benefit from a conversion.  The article also examines why traditional IRA owners who were good candidates for a Roth IRA conversion before the tax reform are now likely good candidates for an even larger Roth IRA conversion.
The digital version of the article is available online now and the printed version of Forbes magazine hit newsstands worldwide on February 28th.  We are in the process of securing reprints and will mail one to our Lange Report newsletter subscribers when available.  In the meantime, you can access the digital version of the article here: https://paytaxeslater.com/forbesarticle
Even if you don't read the article, please check out the photo.
But I have to share a funny backstory that will not be included in the article.
Ashlea mentioned Forbes planned to send a photographer to capture a photo that would accompany the article.  This was a big deal.  The photographer, Tim Pannell, is an award-winning photographer.
I was in Tucson at the time, and I was happy I packed a suit and my favorite tie (inspired by Klimt!) since I anticipated he would want a formal head shot.
Tim called me the day before the shoot and indicated he wanted to start very early because he liked the morning light.  I was confused.  Why would it matter what time of day the shoot occurred since it would be with lights in either my apartment or a studio?  Surprise!  They wanted a picture of me on my bike!
I said okay.  Then, I asked him how he wanted me to dress.  I thought a picture of me in a suit and tie on a bicycle would be interesting and a little nutty.  Bike clothes would be more mundane.  He said let's shoot it both ways.
Knowing the way these things go, I knew there was a chance we would not have enough time to shoot both ways, and I made the executive decision to show up in a suit and tie (but I brought my other gear).  I emailed Tim ahead of time, and he was fine with it.
The night before, I had everything ready.  Tim was to arrive at my apartment at 8:30 a.m.  I dressed in my conservative gray suit and blue shirt and tie and was ready to go with my electric bicycle (ebike) on the car rack and everything else was in the car.
Tim wanted cactus and mountains in the shot, so I picked the best spot I knew.  We headed out to East Saguaro National Park.
After about 30 minutes, we arrived.  We then shot photos for roughly three hours!  I cycled my ebike back and forth in a bunch of locations.  Of course, all the people that saw us stared and wanted to know what was going on.  What was this guy dressed in a suit and tie doing on a bicycle getting photographed?
Anyway, he probably took at least 200 shots…me in a helmet, me not in a helmet, me riding, me still…cactus, no cactus, but mountains always in the background.  Tim picked his favorite but said the Forbes photography editors choose the photo to be included with the article.  I would have guessed that the photographer would pick the shot, but Tim told me in no uncertain terms he doesn't even make a recommendation.  I think the editor made a great pick which happened to be Tim's favorite.
Again, the article appears in the February 28, 2019 edition of Forbes magazine (although it is currently available in digital format by accessing the above-referenced link), and I am in the process of getting reprints which I will send out.
When you read it, you can think about whether you should be considering a Roth IRA conversion for yourself and your family.
Warmly,

James Lange
P.S.  If you have not watched the DVD I sent you, New Tax Laws Create Unintended Benefits for Savvy Retirement Owners Who Act Quickly, now would be a good time.  If you misplaced it, please call Alice, and she will mail another.
---
Free Workshops
Crowne Plaza Pittsburgh South
164 Fort Couch Road
Pittsburgh, PA  15241
(across from South Hills Village)
Meeting Room: Carnegie Room
Cut Taxes on Your IRA Withdrawals with the New Trump Tax Laws
To attend any or all of our 3 FREE financial workshops, call 412-521-2732 or follow the link for how to reserve your seat here.
Saturday, April 27, 2019
Hilton Garden Inn Pittsburgh/Cranberry
2000 Garden View Lane
Cranberry, PA 16066
Cut Taxes on Your IRA Withdrawals with the New Trump Tax Laws
9:30 – 11:30 AM
Who Says You Can't Control From the Grave? Using Trusts to Protect Your Family.
1:00 – 3:00 PM
Cut Taxes on Your IRA Withdrawals With the New Trump Tax Laws.
3:15 – 4:00 PM
Solving the Investor's Biggest Dilemma: How to Stop the Current Market Volatility from Threatening Your Long-Term Security.
---
Soduko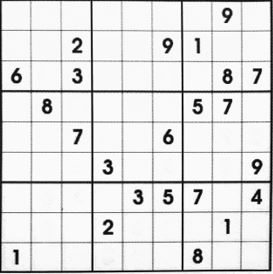 ---


Onion-Leek Soup
Serves:  4
Prep.:  15 minutes
Cook:  20 minutes
3 leeks, white parts only, halved lengthwise and thinly sliced crosswise
1 medium yellow onion, quartered and very thinly sliced
4 cups low-sodium chicken stock (can also use vegetable stock if you prefer vegetarian option)
1 (14 ounce) package of non-GMO silken tofu, drained and quartered
2 tablespoons extra-virgin olive oil, plus more for serving
3/4 teaspoon sea salt
1/2 teaspoon freshly ground pepper
3/4 cup chopped fresh parsley
1/4 cup chopped fresh tarragon
2 tablespoons chopped toasted almonds
Heat the oil in a large saucepan over medium heat.  Add the leeks and onion and season with ½ teaspoon salt and ¼ teaspoon black pepper.  Stir well and cover.  Cook, stirring occasionally, until translucent, about 5 minutes.
Add the stock to the saucepan.  Bring to a boil, then reduce the heat to low, and simmer, uncovered, until the leeks are very soft, about 10 minutes.  Add the tofu and return to a boil.  Turn off the heat and carefully transfer the soup to a blender.  Add the fresh parsley, tarragon, and the remaining ¼ teaspoon of salt and black pepper and blend until very smooth, 2 to 3 minutes. (Alternately, you can use an immersion blender to puree the soup right in the pan).
Ladle the soup into four serving bowls and top each serving almonds.
Recipe © 2015 Dr. Mark Hyman's book:  The Blood Sugar Solution 10-Day Detox Diet Cookbook
---
---
Let's Test Your Knowledge:
What Every IRA Owner Should Know About Roth IRAs and Roth IRA Conversions