Table of Contents
Four Smart, Surprising Health Moves You Can Make Right Now.
(Part Two)
by James Lange, CPA/Attorney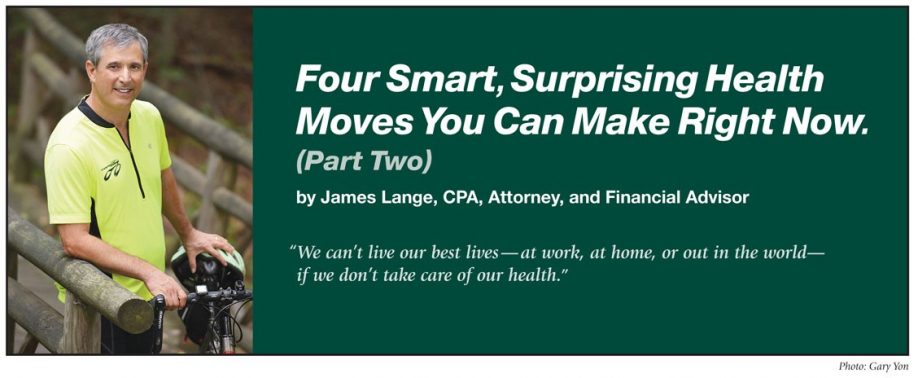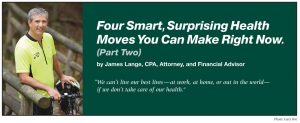 Last month, I published the first part of this article. Following is the remainder. Please note the primary content in this article is provided through a licensed agreement I have with the publisher. Multiple sections are written by Dr. Dan Carlin, a concierge medical doctor who lives and practices in California. My comments and observations will appear throughout the article in italics.
Smart move #3: Take these three heart tests
The standard stress tests to assess cardiac health are good. But these three types of screeners do a better, more thorough job.
High-sensitivity CRP test. This blood test checks for inflammation in your system, but it doesn't indicate where the inflammation is—it could come from an infection or a chronic inflammatory disease such as lupus. Inflammation plays a role in the process of atherosclerosis, in which fatty deposits clog your arteries. A high level of CRP is associated with an increased risk of heart attack, and when combined with other heart disease risk factors, it can help predict your risk factor for a heart attack. Because there is variability in CRP levels, the test needs to be done twice about two weeks apart.*
*I would like to thank Lauri Lang, a peer reviewer, and nutritionist, for alerting us to the incorrect description of what the CRP test measures. The original article indicated that the test measured plaque in the bloodstream, but a crosscheck with the Mayo Clinic website (mayoclinic.org/diseases-conditions/heart-disease/in-depth/heart-disease/art-20049357) clarified what the CRP test measures.
Cardiac myeloperoxidase (MPO) test. MPO in the blood is a specific marker of vascular inflammation and vulnerable plaque. This test reflects your risk for the rupture of unstable plaque, which occurs when a cholesterol pocket in the wall of your coronary artery is large enough to spontaneously burst into the artery itself causing a heart attack.
PLAC The PLAC test measures the amount of Lp-PLA2 in the bloodstream. Lp-PLA2 is an enzyme that can assess the amount of inflammation in your arteries due to a build-up of cholesterol. This test is like the MPO test but uses a different mechanism. The PLAC test is very good at assessing whether you are vulnerable to a high-risk plaque rupture.
One or two of these biochemical blood tests can be combined with cardiac calcium scoring (an X-ray of your heart) or a carotid artery doppler (an ultrasound of the carotid vessels in your neck), both minimally invasive exams of your vascular anatomy show how much plaque is in your coronary arteries. Along with the results of the blood tests, they provide information that can indicate whether the situation is likely to worsen.
You and your doctor can then sort out key issues related to your lifestyle and whether statins (a controversial class of cholesterol-lowering medication) might make a positive difference in your future.
Important: Pay particular attention if the calcium scoring results show that you have obvious plaque combined with elevated results from the MPO or PLAC test. If so, you are at higher risk of a serious event. Anyone with such results should be under the care of an attentive physician and have a deliberate but aggressive program to stabilize and arrest plaque formation. Such a program may involve major changes in areas such as diet, stress management, exercise and blood pressure/blood sugar medications. Of course, the return on that investment can be your life—literally.
Caveat: Don't be surprised if your physician doesn't mention these tests. Many health insurance plans don't cover them.
Partly inspired by the people who wrote this article, my family and I became patients of a concierge medicine doctor. It is too early for me to know if I can recommend him, but I will mention a few things:
I never had a more thorough examination with a doctor. 
He ordered a bunch of tests no doctor had ordered before. 
He wrote a three-page letter summarizing the results with recommendations. 
Though again, still early, he has shown the same thoroughness with my wife and daughter. 
In the long run, the money I am paying him and his company won't matter, but the collective health of our family will matter. 
He offered a special bonus for my clients who meet with him, but again, it is too early for me to give a recommendation. That said, if you want his name and contact information, I will provide it.
Smart move #4: Take these two nutrients together for better heart health
Want those heart tests results to come back looking strong? Get to know two nutrients:
Coenzyme Q1 O (CoQ1O)
Selenium
These naturally occurring antioxidants are beneficial on their own, but research shows that when combined, their effects can be life-altering.
CoQ1O has been recommended as a supplement for over a decade since it was found to decrease in the body as we age. Selenium is also sold as a supplement with antioxidant properties. Deficiency in this mineral is linked to chronic illnesses such as cancer and diabetes.
Alone, selenium and CoQ1O each can eliminate free radicals—molecular byproducts that cause damage over time to cellular structures. In the heart, that often translates into coronary artery disease and impaired cardiac muscle function.
But their ability to work together reveals combined effectiveness that is far greater. A Swedish study[1] examined this combination among people aged 70 to 88. The result was astonishing: a 50 percent decrease in cardiac death risk among those who took a daily combination of selenium and CoQ1O!
Bonus: The benefit of the selenium/CoQ1O combination appears to be long-lasting.
Following the first study, the same researchers tracked the original group for four more years, showing that they had 15 percent fewer inpatient hospital days.
Ten years later, the original group―most of whom were no longer taking selenium/CoQ10―continued to experience an almost 50 percent reduction in death rates from heart attack, stroke, and congestive heart failure.
Advice: Try to consume the two nutrients, daily, through a Mediterranean diet that includes oily fish (like tuna and salmon), organ meats (such as liver), whole grains, and unprocessed sunflower seeds and Brazil nuts. Otherwise, a daily selenium/CoQ1O tablet supplement will do. However, if you're over age 60, consider a slightly modified version of CoQ1O, called ubiquinol, that's more easily absorbed.
Please note that this is one doctor's opinion about supplements. You need to do your research and consult with your physician. I have been persuaded by advocates of fish oil, probiotics, Vitamin D and turmeric. I take the supplements recommended in this article, the ones I listed and many more. 
Conclusion
We all know that an ounce of prevention is worth a pound of cure, as the old adage goes. Being proactively smart with your exercise routine, your sleep, and your heart health today can potentially set you up for decades of amazing results—and an even better life than you thought possible.
[1] Urban Alehagen, Peter Johansson, Mikael Bjomstedt, Anders Rosen, Ulf Dahlstrom. Cardiovascular mortality and N-terminal-proBNP reduced after combined selenium and coenzyme Q7 0 supplementation: A 5-year prospective randomized double-blind placebo-controlled trial among elderly Swedish citizens. International Journal of Cardiology, September 1, 2013, Volume 767, Issue 5.
---
Free Workshops
For University Faculty & Administrators 
Thursday, October 10, 2019
Wyndham Pittsburgh University Center
100 Lytton Avenue
Pittsburgh, PA 15213
Your TIAA, CREF, Vanguard and Fidelity IRAs and Other Retirement Plans are at Risk! House of Representatives Voted 417-3 to Approve the SECURE Act, a New Bill that Will Give the IRS the Power to Take Up to 1/3 of your TIAA, CREF, Vanguard and Fidelity IRAs and Other Retirement Plans in Taxes After Your Death
Reserve your seat today by calling 412-521-2732 or go to paytaxeslater.com/workshops/
9:30 – 11:30 AM     
The Best Estate Plan for Married University Faculty Combined with Optimal Trust Planning for TIAA, CREF, Vanguard and Fidelity IRAs and Other Retirement Plans After the SECURE Act
1:00 – 3:00 PM  
How to Stop Pending Changes in Tax Laws from Taking Up to 1/3 of Your TIAA, CREF, Vanguard and Fidelity IRAs and Other Retirement Plans
3:15 – 4:00 PM 
Specialty Investing and Planning for University Faculty
---
Saturday, October 26, 2019
DoubleTree by Hilton Pittsburgh/Cranberry
910 Sheraton Drive
Mars, PA  16046
Your IRAs and Retirement Plans are at Risk! House of Representatives Voted 417-3 to Approve the SECURE Act, a New Bill that Will Give the IRS the Power to Take Up to 1/3 of your IRA and Retirement Plan in Taxes After Your Death
Reserve your seat today by calling 412-521-2732 or go to paytaxeslater.com/workshops/.
9:30 – 11:30 AM 
The Best Estate Plan for Married IRA Owners Combined with Optimal Trust Planning for IRAs and Retirement Plans After the SECURE Act
1:00 – 3:00 PM    
How to Stop Pending Changes in Tax Laws from Taking Up to 1/3 of Your IRAs and Retirement Plans
3:15 – 4:00 PM
Solving the Investor's Biggest Dilemma: How to Stop Market Volatility from Crushing Your Retirement Nest Egg in the Next Downturn
---
Sudoko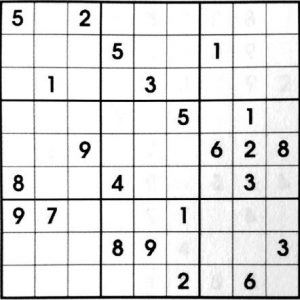 ---


Asian-Spiced Salmon Cakes
These salmon cakes are moist and full of flavor.
Serves: 4
Prep. Time: 30 minutes
Cook Time: 5 minutes
2 large seedless cucumbers, halved lengthwise and thinly sliced
2 medium shallots, 1 thinly sliced, 1 minced
3 tablespoons apple cider vinegar
1 tablespoon plus 1 teaspoon gluten-free, low-sodium tamari
½ teaspoon toasted sesame oil
sea salt
1 head Napa cabbage, cut into 1-inch pieces
1 ¼ pounds boneless, skinless wild salmon fillets, cut into 1-inch pieces
3 ounces snow peas, trimmed and thinly sliced
3 tablespoons of mayonnaise
1 tablespoon five-spice powder
1 tablespoon grapeseed oil
In a medium bowl, toss the cucumber and sliced shallot with 2 tablespoons of the vinegar, 1 teaspoon of the tamari, the sesame oil, and a pinch of sea salt. Let stand while you prepare the salmon cakes.
Pulse the Napa cabbage in a food processor until very finely chopped. Transfer to a colander and toss with ¼ teaspoon sea salt; let stand.
Combine the minced shallot and remaining 1 tablespoon vinegar in a large bowl. Pulse three-quarters of the salmon in the food processor until finely ground. Transfer to the bowl with the shallot. Pulse the remaining salmon until just coarsely chopped. Transfer to the bowl, along with the snow peas, Mayonnaise, remaining 1 tablespoon tamari, five-spice powder, and ¼ teaspoon sea salt. Squeeze as much liquid as possible out of the cabbage with your hands. Add the cabbage to the salmon mixture. Mix well with your hands and shape into 4 equal-size patties.
Heat the grapeseed oil in a large nonstick skillet over medium-high heat until shimmering. Add the patties and cook until browned and just cooked through, 2 to 3 minutes per side. Serve with the cucumber salad on the side.
---
---
Lange Employee Spotlight: Eric Emerson
Eric Emerson is the Marketing Director for Lange Financial Group, LLC. With years of experience in marketing, he brings a diverse track record of building brand recognition and sales momentum to our team. A proud member of the Lange organization since 2014, Eric is grateful for all of the opportunities and knowledge he has gained working with Jim and the rest of the staff.
Eric and his wife, Jennifer, just celebrated their twins' first birthday. Life is busy for them. Along with one-year-old twins, Milo and Mackenzie, Eric and Jennifer also have a three-year-old son, Max.