Thank you for requesting your free digital copy of Retire Secure, 3rd Edition!
The Download to the FREE Summary is Ready for You!
Please check your email for the download link Retire Secure! A Guide to Getting the Most Out of What You've Got.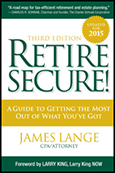 Also, please check out our website www.paytaxeslater.com, to learn more about our services and our team.
Thank you.
Respectfully,

James Lange
412-521-2732