What Are the Exceptions to the Death of the Stretch IRA Legislation?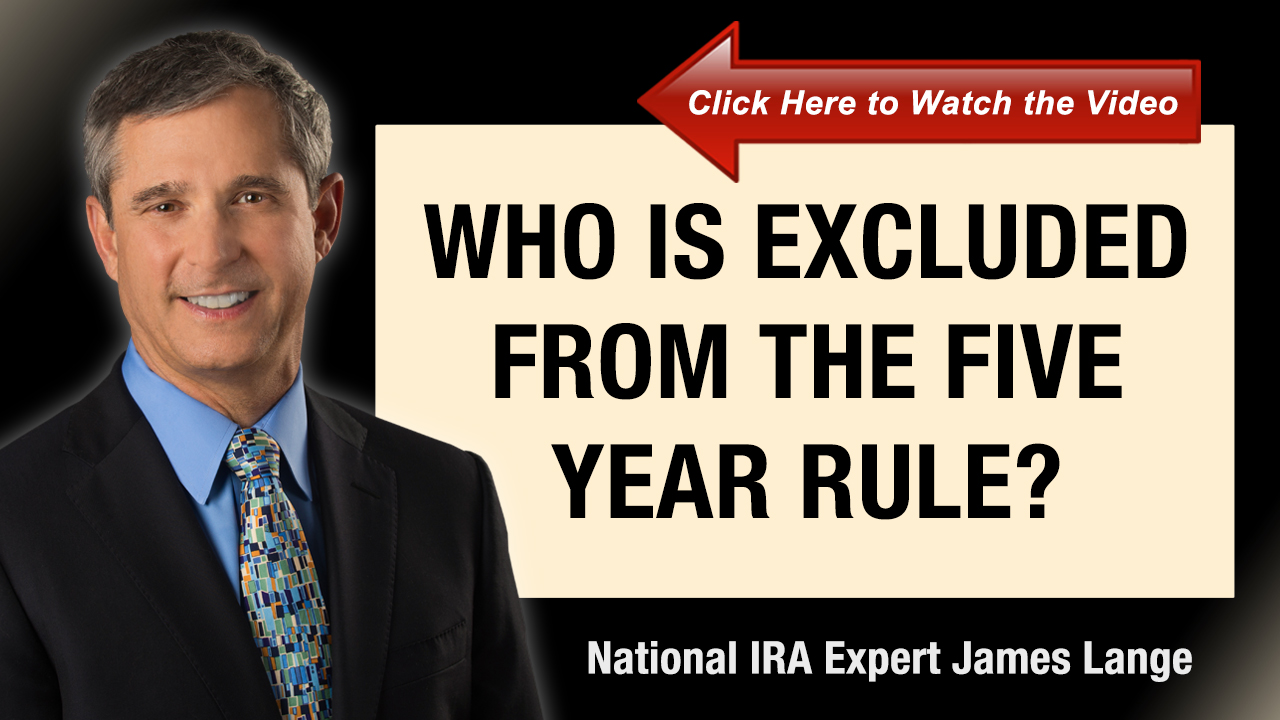 If you've been following my blog, you know that the Senate Finance committee has voted 26 0 to eliminate the Stretch IRA. The idea makes sense – the billions of dollars they'd make in tax revenue would help the new administration pay for promises made on the campaign trail. I believe that it will pass, and so I wanted to spend a little bit of time today and discuss the exceptions to the proposed new Inherited IRA rules.
If there is any good news in this mess that Congress has dumped on us, it is the fact that they have protected your spouse from the new rules affecting Inherited IRAs. So everything that you read in Retire Secure! about taking minimum distributions from your spouse's retirement plans still holds true. If you die and leave all of your IRA money to your spouse, she can still stretch it over the course of her lifetime. But don't get too comfortable, because the new rules have a catch. Even though she can still stretch your IRA, it might not be the best idea to leave your spouse all of your money – a concept that is so complicated that I'll have to devote an entire future post to it.
Some beneficiaries can still benefit from Stretch IRAs
Disabled and chronically ill individuals are excluded from the new rules, as are beneficiaries who are not more than ten years younger than you – such as siblings or an unmarried partner. The privilege isn't extended to their beneficiaries. Once they die, their own beneficiaries will have to pay taxes according to the new rules. Minors are also excluded from the five year rule, but only while they are minors. Once they reach the age of majority – which varies depending on which state they live in – they have to pay accelerated taxes according to the new rules. This could open up a Pandora's Box of problems during their college years, because the distributions they'd have to take from the inherited IRA could make them ineligible for any type of financial aid!
Charities and Charitable Remainder Unitrusts (CRUTS) are also excluded from the five year rule. This exception can provide some planning opportunities for the right individuals, but it's also a topic so complicated that I'm going to devote an entire future blog post to it as well.
Current proposal about Stretch IRAs offers some protection with an exclusion
The other interesting news is that the proposed new rules give each IRA owner a $450,000 exclusion – meaning that their beneficiaries can exclude (and therefore, continue to stretch) a certain portion of the account. Granted, they may change this amount, but as it stands now, you have nothing to worry about if the total IRA balance in your family is less than $450,000. If you have a $1 million IRA, your beneficiaries will be able to stretch $450,000 but will have to pay accelerated taxes on $550,000. The exclusion has to be prorated between all of your retirement accounts – including Roths. And while distributions from Roth accounts aren't taxable, the greater damage is that your beneficiaries will lose the benefit of the future tax free growth. You can't even choose which of your beneficiaries gets to use the exclusion – it's prorated between your beneficiaries!
These new rules for Inherited IRAs will be an administrative headache for all of your beneficiaries. The exceptions to the rules, however, provide planning opportunities that if possible, you should take advantage of while both you and your spouse are alive. I encourage you to watch the short video attached to this post, and stop back soon to learn more about the things you can do now to minimize the effects of this devastating legislation.
Jim
For more information on this topic, please visit our Death of the Stretch IRA resource.
P.S. Did you miss a video blog post? Here are the past video blog posts in this video series.
Will New Rules for Inherited IRAs Mean the Death of the Stretch IRA?
Are There Any Exceptions to the Death of the Stretch IRA Legislation?
How will your Required Minimum Distributions Work After the Death of the Stretch IRA Legislation?
Can a Charitable Remainder Unitrust (CRUT) Protect your Heirs from the Death of the Stretch IRA?
What Should You Be Doing Now to Protect your Heirs from the Death of the Stretch IRA?
How Does The New DOL Fiduciary Rule Affect You?
Why is the Death of the Stretch IRA legislation likely to pass?
The Exclusions for the Death of the Stretch IRA
Using Gifting and Life Insurance as a Solution to the Death of the Stretch IRA
Using Roth Conversions as a Possible Solution for Death of the Stretch IRA
How Lange's Cascading Beneficiary Plan can help protect your family against the Death of the Stretch IRA
How Flexible Estate Planning Can be a Solution for Death of the Stretch IRA
Save
Save