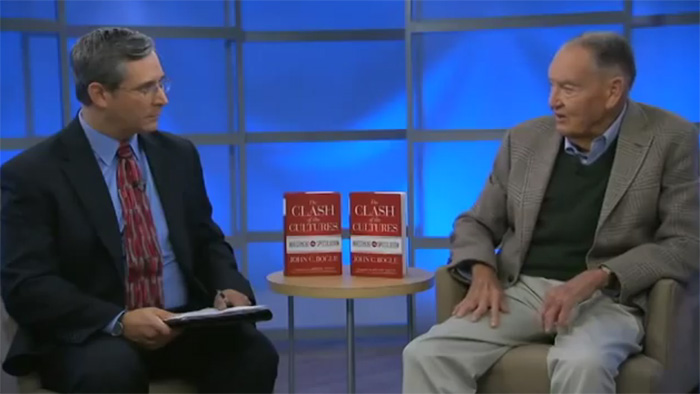 Many of our heroes turn out too good to be true. Lance Armstrong was one my heroes, but turns out, he was a big cheater, as was Barry Bonds. It is risky to admire athletes—you could be deeply disappointed. Politics offers even less hope, and the stakes are higher; if there is a political figure you like, on either side of the aisle, chances are they are also deeply flawed.
Jack Bogle, at least to our knowledge, doesn't have skeletons in his closet.
One of the most surreal moments of my life occurred as I sat across from the living legend, John C. Bogle, at Vanguard Studios for our first interview. Here was the man who founded the largest mutual fund company in the world, a man whose investment sensibilities I share, a man I have long admired, sitting with me and sharing with me and the listeners of my radio show The Lange Money Hour his thoughts on everything from the economic turmoil we endure as a country to the value of having a financial advisor.
Even in his mid-80s, John Bogle is razor sharp and steadfast in his career-long mission to champion the everyday investor. During our first interview, we spoke about one of his many best-selling books, The Clash of the Cultures: Investment vs. Speculation. The book is a searing indictment of our country's entire financial system. He calls out Congress, the judiciary, the SEC, the Federal Reserve Board, the rating agencies, the financial press, security analysts, and corporate directors, among other institutions, for abandoning their fiduciary duty and engendering an environment of financial speculation rather than investment. He defines speculation as trading with another person or entity, rather than investing in growth. According to him, Wall Street trading is now based on speculation and the winners are the brokers and the money managers.
The point of investing, according to Bogle, is to add value. Speculation doesn't create value, it subtracts from it. "Wall Street is a mess," Bogle asserted, "Can I say it any more boldly? Our financial system is a mess, heavily based on trading and speculation and not nearly heavily enough based on investments."
During our second interview, he commented, "Today, large financial institutions, such as Vanguard and Fidelity and American Funds, and some of the big private money managers usually associated with mutual funds, hold 70% of all the stock in America. These institutions control corporate America. They have the power, they have the responsibility, but they don't do very much in terms of corporate governance. You know, things like officer's compensation, totally off the wall…so, that system has to be fixed."
John Bogle seeks to bring us back to the basics of investing in the growth of an economy and making money with those investments. Don't pick and choose, buy indexes; don't analyze your purchases day to day. Try to eliminate the emotional aspects of investing; buy properly and hold your positions.
A notoriously frugal man, he felt it was appropriate and important to spend money on a trusted fiduciary advisor. That was something of a surprise to me—the founder of Vanguard; the best option for the do-it-yourself investor—endorsing financial advisors. But Bogle comments: "The financial advisor is a very valuable piece of work… helping you with asset allocation, telling you the difference between a Roth IRA and a regular IRA. The system is loaded with nuances. Estate planning is a whole other complexity. In this complex world, I think most people need help."
John Bogle acts on his principles, and lives by them—that is heroic in my mind. I highly recommend listening to my interviews with him at www.paytaxeslater.com/radio-show. Word of wisdom from an honorable source. It will be time well-spent.
---
If you are interested in more financial information (we have written 5 best-selling financial books, many peer-reviewed articles, have 185 hours of our radio archives, etc.), we encourage you to visit our website, www.paytaxeslater.com. It has a wealth of valuable free material of special interest to IRA and retirement plan owners, or please call (412) 521-2732 for a free copy of The Ultimate Retirement and Estate Plan for Your Million-Dollar IRA or to see if you qualify for a free second opinion consultation.