How Divorce Affects Your Social Security Benefits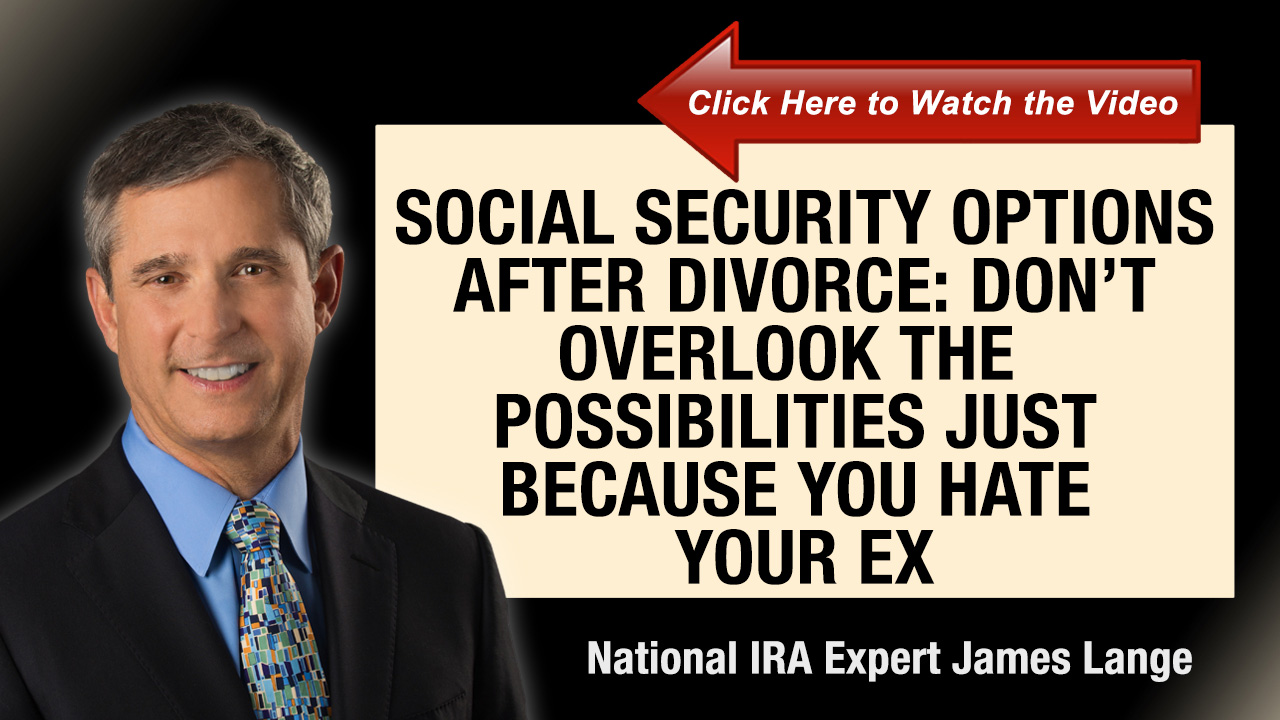 This series of posts discusses the likelihood of a reduction and then increase in federal income tax rates.  For those of you who are currently retired or will be shortly, the elections you make concerning your Social Security benefits, as well as the execution of optimally timed Roth IRA conversions can make the difference between your being financially secure or going broke.  This post will cover some options that divorced individuals may want to consider when filing for Social Security benefits.
Social Security Benefits after Divorce – Your Former Spouse is Still Alive
Let's say that you were married for ten years but are now divorced.  Did you know that you can get Social Security spousal benefits based on your former spouse's earnings record?   Suppose that your ex began collecting Social Security at his Full Retirement Age of 66, and that he gets $30,000 every year.  Then suppose that your own benefit is $800/month.  If you've never asked Social Security about receiving benefits based on your divorced spouse's record, you should.  If you meet the requirements, you're entitled to half of your ex's benefit amount, which in this example is a lot higher than what you'd receive based on your own earnings record.
What are the requirements for Social Security spousal benefits if you're divorced?  First, your ex must still be alive (for an important reason I'll cover shortly) and must be entitled to receive Social Security retirement or disability benefits.  Your marriage to your former spouse had to have lasted ten years or longer.   The final requirement is that you must be at least age 62, and unmarried.  If you remarried, you are still entitled to spousal benefits, but they will generally be awarded based on the earnings record of your new spouse – not the individual who you are divorced from.
Not all divorces are amicable, unfortunately, so I want to give some peace of mind to those of you who believe you probably qualify for benefits from a former spouse but are reluctant to ask about them.  First, your filing for spousal Social Security benefits will have absolutely no impact on your ex's monthly check.  In fact, if your former spouse remarried and divorced five times, and each of his spouses meets all of the requirements listed above, every single one of them can collect Social Security spousal benefits based on his record.  And every former spouse is entitled to receive the same amount of money as the current spouse – with no reduction in anyone's benefit!
Suppose that you meet all of the requirements, but you are not on the best of terms with your former spouse?  Well, it will probably take longer if you don't have your former spouse's Social Security number, but you can still apply for spousal benefits.  You'll just need to give the Social Security Administration your former spouse's name and place of birth, and both of his parent's names.
Social Security Spousal Benefits From Former Spouse Who Is Still Working
What if your divorced spouse is not currently collecting Social Security?  If your ex is eligible for retirement benefits but has chosen not to file for them yet, you can still collect a spousal benefit based on his record as long as you were married for at least ten years, and have been divorced for at least two years.
Social Security Survivor Benefits after Divorce – Your Former Spouse is Dead
I said earlier that it was important that your former spouse be alive, in order for you to be able to collect spousal benefits on his record.   But what happens to your spousal Social Security benefits when your former spouse dies?  Well, if your marriage ended on very bad terms, you'll probably be happy to hear that your ex could be worth more to you dead than alive.  If you are collecting spousal benefits based on a divorced spouse's record, and that spouse dies, you are eligible to receive the same survivor benefits as his current spouse – which is his full monthly benefit amount.  Again, the requirement is that your marriage had to have lasted at least ten years, in order to collect survivor's benefits based on a former spouse's earnings record.
Divorce and Social Security Benefits
The bottom line is that if you were married for at least ten years and have not remarried, you should make sure that you investigate what benefits you might be entitled to after your divorce –benefits that are based on your former spouse's earnings record.  This is true whether your former spouse is alive, has remarried or even if he or she has passed on.  Getting the most you can out of your Social Security benefits is even more important now, with the likely Death of the Stretch IRA.
Stop back soon for more Social Security talk!
-Jim
For more information on this topic, please visit our Death of the Stretch IRA resource.
P.S. Did you miss a video blog post? Here are the past video blog posts in this video series.
Will New Rules for Inherited IRAs Mean the Death of the Stretch IRA?
Are There Any Exceptions to the Death of the Stretch IRA Legislation?
How will your Required Minimum Distributions Work After the Death of the Stretch IRA Legislation?
Can a Charitable Remainder Unitrust (CRUT) Protect your Heirs from the Death of the Stretch IRA?
What Should You Be Doing Now to Protect your Heirs from the Death of the Stretch IRA?
How Does The New DOL Fiduciary Rule Affect You?
Why is the Death of the Stretch IRA legislation likely to pass?
The Exclusions for the Death of the Stretch IRA
Using Gifting and Life Insurance as a Solution to the Death of the Stretch IRA
Using Roth Conversions as a Possible Solution for Death of the Stretch IRA
How Lange's Cascading Beneficiary Plan can help protect your family against the Death of the Stretch IRA
How Flexible Estate Planning Can be a Solution for Death of the Stretch IRA
President Trump's Tax Reform Proposal and How it Might Affect You
Getting Social Security Benefits Right with the Death of the Stretch IRA
The Best Age to Apply for Social Security Benefits after the Death of the Stretch IRA
Part II: The Best Age to Apply for Social Security Benefits after the Death of the Stretch IRA