How to Use Gifting and Life Insurance as possible solutions to the Death of the Stretch IRA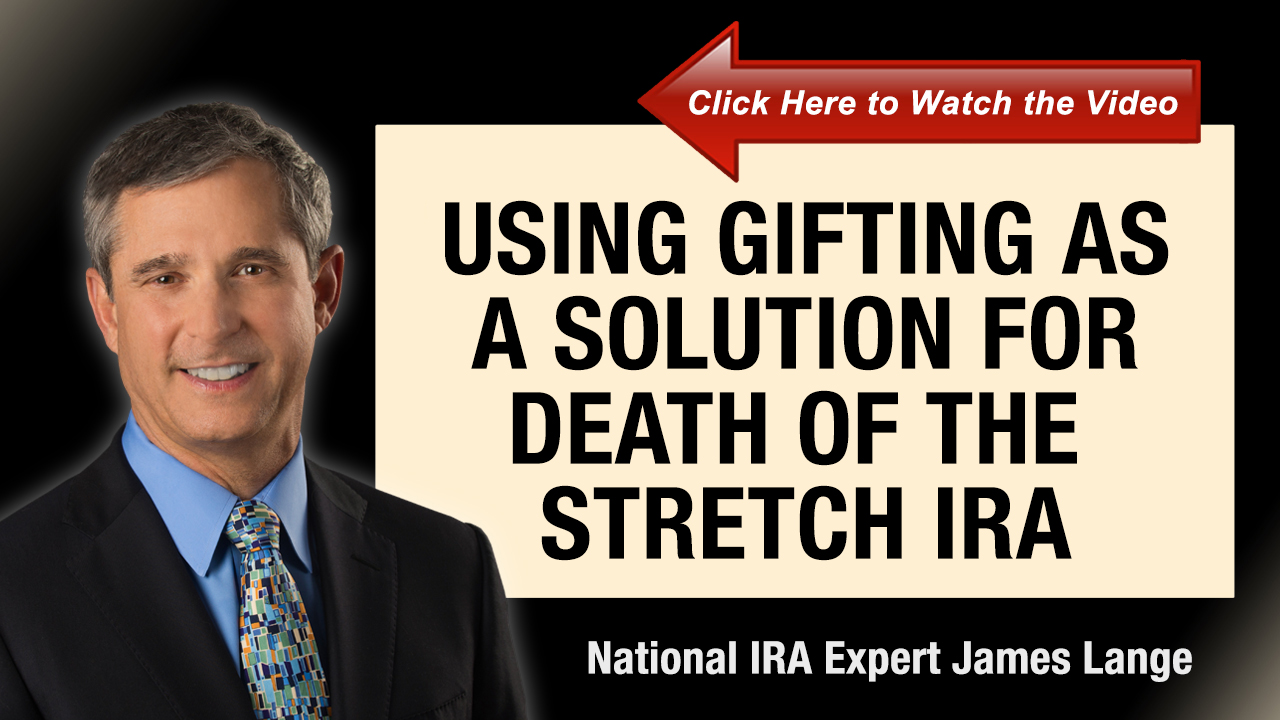 This post is the ninth in a series about the Death of the Stretch IRA.  If you're a new visitor to my blog, this post might not make much sense unless you read the preceding posts, which spell out the specifics of the proposed legislation that might cost your family a lot of money.  This post discusses some ways that you can use gifting and life insurance as a possible solution to the Death of the Stretch IRA.
If you've been following my previous posts, you know that the Death of the Stretch IRA legislation could spell devastating tax consequences for your beneficiaries (other than your spouse, who is considered exempt).  Strategic planning to minimize those taxes will become very important once this legislation is finalized.  And while the techniques that follow are not for everyone, they can be beneficial for people who are in a position to take advantage of them.
What is a Gift?
When estate planners talk about gifts, they're not talking about the presents you exchange on birthdays and holidays.  Generally, they're referring to gifts of assets – cash, investments, etc. – that, when transferred to someone else, can reduce your current tax bill and, ultimately, the tax that your beneficiaries will pay after you die.  Current IRS rules allow you to gift a maximum $14,000 every year, tax-free, to each of your children.  Your spouse can also gift $14,000 to each child and, if you wanted to, both of you could also gift $14,000 to your child's spouse.  Let's say that you have three children, and they're all married.  This means that you and your spouse could gift $56,000 to each of their families, tax free.  It also means that you've just reduced the size of your own taxable estate by $168,000.  Gifting can help reduce the amount of income tax that you owe now, and can be an effective solution to help manage the taxes that will be due at your death.
Maximizing the Tax Benefits of your Gift
But why not maximize the value of your gift by making it tax-efficient for the beneficiary too?  One idea would be to fund a Roth IRA for each child.  Roth IRAs are not tax-deductible, but the future earnings on the account are, under current law, completely tax-free.  A gift of a $5,500 Roth IRA to a 25-year old could make a significant difference in his standard of living when he retires.
If you have grandchildren who are of school age, a gift of a college savings plan could be an excellent tax-savings strategy.  While the contributions to a Section 529 plan are not deductible on your own federal tax return, the withdrawals are tax-free as long as the proceeds are used for qualifying expenses incurred by a student who is enrolled at a qualifying institution.
But what happens if your family situation is such that, even if you gift the maximum amount legally possible to all of your beneficiaries, taxes will still be a concern after your death?  In that case, you may want to consider life insurance as a possible solution.
Using Life Insurance as a Solution for Problems After Your Death
I don't recommend life insurance just so that your heirs will receive even more money when you die.  Rather, I recommend it so that your heirs, and not the government, will get the money you're leaving behind.  Here's why.  Monthly payments such as pensions, annuities and Social Security that you rely on for cash flow, will likely change (if your spouse survives you) or stop completely when you die.  Your bills, though, will keep coming until they're settled by your executor.  Many of these bills will be caused by taxes.  Your executor will have to file an income tax return on April 15th, and estate and inheritance taxes are generally due nine months after you die.  If your assets are not liquid by nature (for example, if you own real estate or a family business), or if you owned investments that happened to have declined in value at the time of your death, life insurance can provide sufficient cash to pay those taxes.  Without it, your heirs may be forced to liquidate your assets for far less than what they are worth.  The proceeds from life insurance, if it's set up properly, are free of state and federal estate, inheritance and transfer taxes.
Remember, life insurance is a gift – and if you can't afford to give your children a cash gift, then it isn't likely that you can afford to give them a gift of life insurance either.  If you can afford to give them a gift, though, then life insurance is an option that you might want to consider.
Gifting and the Death of the Stretch IRA
When the Death of the Stretch IRA legislation is finalized, gifting (and especially life insurance) will likely become even more effective solutions than they have been in the past.  Please stop back soon, because my next post will go into the details!
-Jim
For more information on this topic, please visit our Death of the Stretch IRA resource.
P.S. Did you miss a video blog post?  Here are the past video blog posts in this video series.
Will New Rules for Inherited IRAs Mean the Death of the Stretch IRA?
Are There Any Exceptions to the Death of the Stretch IRA Legislation?
How will your Required Minimum Distributions Work After the Death of the Stretch IRA Legislation?
Can a Charitable Remainder Unitrust (CRUT) Protect your Heirs from the Death of the Stretch IRA?
What Should You Be Doing Now to Protect your Heirs from the Death of the Stretch IRA?
How Does The New DOL Fiduciary Rule Affect You?
Why is the Death of the Stretch IRA legislation likely to pass?
The Exclusions for the Death of the Stretch IRA
Using Gifting and Life Insurance as a Solution to the Death of the Stretch IRA
Using Roth Conversions as a Possible Solution for Death of the Stretch IRA
How Lange's Cascading Beneficiary Plan can help protect your family against the Death of the Stretch IRA
How Flexible Estate Planning Can be a Solution for Death of the Stretch IRA