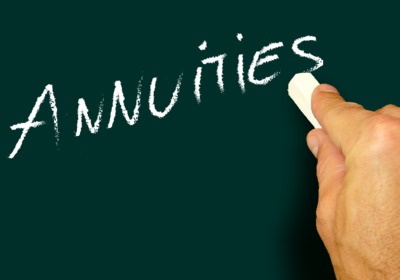 The Center for Disease Control annually publishes a document called the National Vital Statistics Report. This report estimates the life expectancy of men and women in the United States. At birth, the life expectancy for a male is 76.7 years and, for a female, 81.4 years. What is interesting about the report, however, is that it shows that, the longer you do live, the more your life expectancy increases. If you've already made it to age 65 and are male, you are likely to continue to live until age 83. If you're a 65-year old female, you can be expected to live until age 85.5. If you're a male and you've already made it to age 80, you can expect to live until age 88.3; an 80-year old female can expect to live until age 89.7. When your life expectancy continues to increase, how can you possibly make sure that the money you've saved for retirement lasts for your entire life?
Financial professionals are sharply divided on the topic of annuities. Some love them, and some hate them.  My goal in the Third Edition of Retire Secure! is to point out the advantages and disadvantages of annuities, and let you make up your own mind as to whether they would be good or bad for your own retirement. There are many different kinds of annuities, but most can be used to provide a guaranteed lifetime income for both you and your spouse. This can provide peace of mind to individuals who are concerned that the Social Security system might go bankrupt after they retire and are no longer able to earn income. As of June 2014, employees are permitted to buy a specific type of annuity called a qualified longevity annuity contract (or QLAC) within their retirement plan. While you can't avoid taking Required Minimum Distributions completely, this type of annuity allows owners to defer retirement distributions until age 85. This means that owners would receive the maximum pension benefit possible for the rest of their lives. Once distributions are started, the owner receives a guaranteed income for the rest of his or her life. Being able to exempt a portion of retirement income from minimum required distributions from age 70 ½ to age 85 can be a powerful estate planning tool, however, there are rules you have to follow. Those rules are covered in Chapter 8.
Annuities are also playing a growing role in estate planning for adult children. Many retirees have adult children who have been financially devastated because they were not adequately prepared for the cost of sending their own children to college. Others simply live beyond their means and believe that balancing their budget means robbing Peter to pay Paul. For some, the unexpected loss of a steady income from a job can spell financial disaster. Chapter 8 contains some tips on how you can use annuities to put your spendthrift children on a budget or, if necessary, even protect them from their creditors.   In some cases, annuities can offer the means to provide your children with the highest possible degree of financial security.
Check back soon for a tip on how to avoid a common and expensive mistake when taking distributions from a retirement plan that includes company stock!
– Jim
A nationally recognized IRA, Roth IRA conversion, and 401(k) expert, he is a regular speaker to both consumers and professional organizations. Jim is the creator of the Lange Cascading Beneficiary Plan™, a benchmark in retirement planning with the flexibility and control it offers the surviving spouse, and the founder of The Roth IRA Institute, created to train and educate financial advisors.
Jim's strategies have been endorsed by The Wall Street Journal (33 times), Newsweek, Money Magazine, Smart Money, Reader's Digest, Bottom Line, and Kiplinger's. His articles have appeared in Bottom Line, Trusts and Estates Magazine, Financial Planning, The Tax Adviser, Journal of Retirement Planning, and The Pennsylvania Lawyer magazine.
Jim is the best-selling author of Retire Secure! (Wiley, 2006 and 2009), endorsed by Charles Schwab, Larry King, Ed Slott, Jane Bryant Quinn, Roger Ibbotson and The Roth Revolution, Pay Taxes Once and Never Again endorsed by Ed Slott, Natalie Choate and Bob Keebler.
If you'd like to be reminded as to when the book is coming out please fill out the form below.
Thank you.

Save