Somewhat tongue-in-cheek, I refer to "Leave it to Beaver" families as the perfect candidates for the Lange Cascading Beneficiary Plan (LCPB). Just to be clear about what I mean by that, I am showing you a basic version of the family tree for that type of family. Blended families with children from different unions sometimes need to have estate planning with more complicated beneficiary designations. It is not that the LCBP cannot work, but it is not as straightforward. With that in mind, let's look at the essence of Lange's Cascading Beneficiary Plan.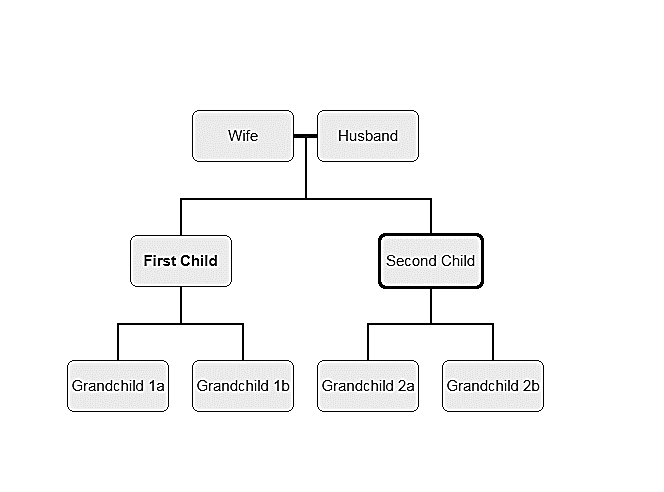 It is important to think long-term with financial planning using the Lange Cascading Beneficiary Plan.
In previous content of the Lange Cascading Beneficiary Plan series, I have discussed the tax and long-term estate planning benefits of leaving your IRA and retirement accounts, when possible, to the youngest members of your extended family to get the longest stretch possible. Remember, keeping money in the tax-deferred environment (traditional IRAs and retirement plans) or the tax-free environment (Roth IRA etc.) for as long as possible works to your heirs' advantage.
But, let's be realistic. Even if you understand that the tax benefits are greater when you leave your IRA to your grandchildren, most couples want to ensure that their surviving spouse will be financially sound with enough discretionary money to lead a happy and fulfilling life. So, if we take that attitude, it might seem that the simplest and safest route is to simply leave all your money to your surviving spouse.
Or, you make some calculations and decide your surviving spouse will probably be fine with most of your IRA but some of it could go to the kids upon the first death. Maybe your plan works out perfectly, but maybe it doesn't.  Let's look at an example. You have a two-million-dollar IRA, and you think, based on future calculations that your spouse will only need about $1,500,000.
You could make your children the beneficiaries of $500,000 at your death. Conducting your estate planning in this manner could provide your children with some inheritance after the death of the first parent. It might be very useful to them, especially if they have children of their own that will be needing money for school or facing other monetary challenges associated with raising a family.
The financial market is in constant flux, keep that in mind when making plans.
That sounds like a great plan but what happens if the market takes a big dive? The two million you thought was going to be there has dropped to 1.5 million, and you have designated $500,000 of that to go to the children. Now, your surviving spouse has less money to live on, and you fail to meet your objective of providing for your spouse. That would be horrible. Divvying up an estate appropriately is one of the biggest hurdles of estate planning.
So, you go back to square one, and leave everything to your surviving spouse outright.  Down the road, your family will likely have to give up more in taxes. Furthermore, if changes in the tax code modify the advantages of the stretch IRA, you could potentially forfeit the tax advantages that might be offered to compensate a bit for the loss. There was talk, for instance, of allowing $450,000 of an Inherited IRA to be stretched over a lifetime, and this exemption allowance would be available to both spouses.
If your estate planning leaves everything to your spouse, you forfeit one $450,000 exemption. Whereas, if the first spouse to die leaves $450,000 to the kids (giving them the advantage of the stretch), then when the second spouse dies, the children can take advantage of the second exclusion and stretch another $450,000. That is a big difference.
This is why the Lange Cascading Beneficiary Plan is right for you.
What we come back to time and again, is that we don't have a crystal ball that allows us to plan for the future with any confidence that we are making decisions that will be appropriate for the circumstances at that time. That is precisely why the LCBP is so effective. You can draft the documents in such a way that your surviving spouse (with the help of an advisor and perhaps the grown children) can make good decisions about allocating the estate that are both tax-savvy and in the best interest of the family.
Picking up on our previous example where the stock market took a dive and there is less money overall for the surviving spouse. Under the terms of the LCBP, he or she could say, "Hey, I'd love to help the kids out, but I need all the money." End of story, surviving spouse just keeps everything and we get a good result.
The essence of the LCBP will put you at ease.
Alternatively the surviving spouse has more than enough money for long-term security and a comfortable lifestyle, so he or she decides that money should go to the kids. So, with the cascade in place, divided among the children equally, and with disclaimers available, the surviving parent can look at each child's situation and help them in the way that makes the most sense. Perhaps one child has a bright financial future, and it would make more sense to pass money onto their children (the grandchildren). In that instance, the first child could disclaim their portion directly to their children via well-drafted trusts.
Second child would love to do the same, but actually, he or she could use the money.  So, he or she accepts the inheritance, and does not disclaim to his or her children. Flexibility works. And, a further advantage is that none of these decisions must be made quickly. The family has nine months after the first death to finalize all decisions. A little breathing room after a crisis can be very welcome.
With documents that offer flexibility, you don't have to predict the future to provide for your family in a way that makes sense for the time. Lange's Cascading Beneficiary Plan allows for terrific post-mortem planning that can make an enormous difference for the family.
Next week, we will examine estate planning with the potential $450,000 exclusion in more detail.
See you soon!
P.S. If you want to do a little advanced study on this topic before the next post and video, go to https://paytaxeslater.com/estate-planning/.