Roth IRA Conversions and the Death of the Stretch IRA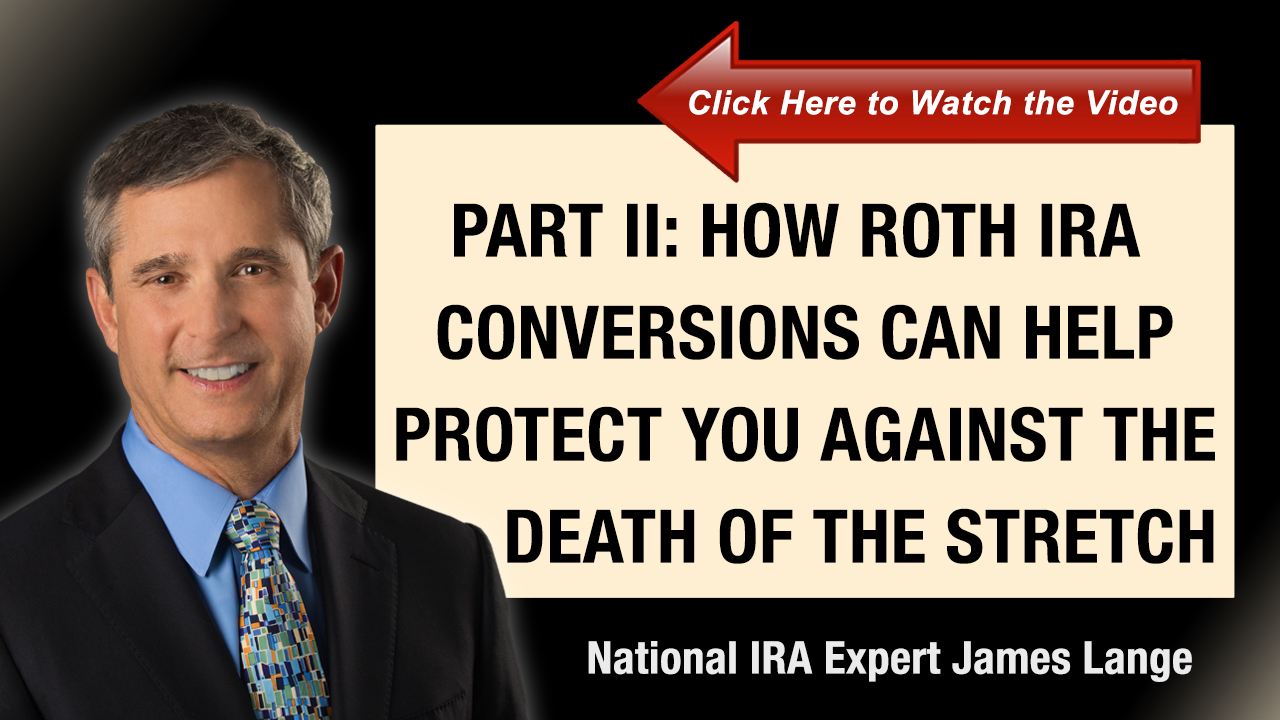 This post is part of a series about using Roth IRA conversions as a defense against the legislation that I call the Death of the Stretch IRA.  If you are new to my blog, you might find it beneficial to back up and read my earlier posts.
The Best Time to Convert a Traditional IRA to Roth
One of the reasons that people can be reluctant to convert a traditional IRA to a Roth is because they have to pay tax on the transaction.  Nobody wants to give the IRS one more cent than they're entitled to, right?  And it's true – any amount that you convert from a traditional IRA to a Roth is taxed, just like a normal withdrawal.  But here's the bigger problem. Not only do Roth conversions increase the amount of tax you owe at the end of the year, it can also increase the rate at which you pay tax.   Managing the tax implications of Roth IRA conversions can be a huge problem for people who are looking to protect themselves against the Death of the Stretch IRA, so I want to tell you about the sweet spot that you should look for if you are considering a conversion.
First, I want to clarify that the examples that follow are based on the 2016 tax tables.  The IRS has not published the 2017 tables as of this writing, so for purposes of illustration, we're going to use the 2016 tax tables.  But as an example: if you're married and file a joint tax return with your spouse, you can earn up to $75,300 and stay within a 15% tax bracket.  If you earn $1 more – $75,301 – you'll shoot up to a 25% tax bracket.  If you're a high earner, you can earn up to $231,450 and pay 28% in taxes.  If you earn $231,451, you'll move up a tax bracket, to 33%.
The best way to convert a Traditional IRA to a Roth, therefore, is to first project how much income you'll have during the year.  Let's say that you're 64 and still working and, after adding up all of your income sources, you think you'll end up with $131,450.  And then let's say that you have $1 million in a Traditional IRA.  Should you convert all of that into a Roth?  For most people, that would be a very bad move.  But what you might be able to do is convert $100,000 because, when that amount is added to your other income, you'd still be in a 25% tax bracket.   We generally recommend that our clients do series of small Roth IRA conversions that consider their other income sources so that they do not increase their tax bracket.  For many people, the sweet spot for their conversion amount will be the difference between their normal income, and the top of their tax bracket.
I gave a workshop recently where someone was really having difficulty understanding why you'd want to pay taxes one moment before you had to.  He asked, "Why does it matter when I pay the taxes if I'm going to be in the same tax bracket now or later?"  And while he was (technically) correct about the amount that he was considering converting, what he'd forgotten about was the future gains.  If he doesn't convert, the gain earned inside his traditional IRA will be taxed when it is withdrawn.  If that gain is earned inside a Roth IRA because he converted, the withdrawals will be tax-free.  And when the Death of the Stretch IRA finally passes, having that pot of Roth IRA money that you can dip in to without having to worry about the tax consequences can give you enormous flexibility in retirement.
Future Income Sources Affect Roth Conversions
There's one other point about taxes that I want to make.  They frequently change after retirement!  Let's consider another example.  Joe's 65 years old and has just retired from his job.  He also took my advice about Social Security and is waiting until age 70 to apply.  From the IRS's perspective, Joe doesn't have a lot of income.  Actually, he's pretty comfortable because he's just living on a savings account, but he has no wage income or Social Security income.  These are the years when it might be a really good idea for Joe to consider a series of Roth IRA conversions and the best way for him to save some money in taxes!   Why?  Because when Joe is 70, he's going to have income from Social Security that is higher because he waited, and he's also going to have to take required minimum distributions from his retirement accounts.  Taxes, taxes, taxes!  If he is able to convert some of his traditional IRA to a Roth now, while he is in a low tax bracket, the required minimum distributions from his traditional IRA (if he has any left) will be less.  And if he needs more income, he can always tap into his Roth.
Roth IRA conversions can be a great defense against changes in your personal tax situation, and against the Death of the Stretch IRA.
Thanks for reading, and stop back soon!
-Jim
For more information on this topic, please visit our Death of the Stretch IRA resource.
P.S. Did you miss a video blog post? Here are the past video blog posts in this video series.
Will New Rules for Inherited IRAs Mean the Death of the Stretch IRA?
Are There Any Exceptions to the Death of the Stretch IRA Legislation?
How will your Required Minimum Distributions Work After the Death of the Stretch IRA Legislation?
Can a Charitable Remainder Unitrust (CRUT) Protect your Heirs from the Death of the Stretch IRA?
What Should You Be Doing Now to Protect your Heirs from the Death of the Stretch IRA?
How Does The New DOL Fiduciary Rule Affect You?
Why is the Death of the Stretch IRA legislation likely to pass?
The Exclusions for the Death of the Stretch IRA
Using Gifting and Life Insurance as a Solution to the Death of the Stretch IRA
Using Roth Conversions as a Possible Solution for Death of the Stretch IRA
How Lange's Cascading Beneficiary Plan can help protect your family against the Death of the Stretch IRA
How Flexible Estate Planning Can be a Solution for Death of the Stretch IRA
President Trump's Tax Reform Proposal and How it Might Affect You
Getting Social Security Benefits Right with the Death of the Stretch IRA
The Best Age to Apply for Social Security Benefits after the Death of the Stretch IRA
Part II: The Best Age to Apply for Social Security Benefits after the Death of the Stretch IRA
Social Security Options After Divorce: Don't Overlook the Possibilities Just Because You Hate Your Ex
Is Your Health the Best Reason to Wait to Apply for Social Security?
Roth IRA Conversions and the Death of the Stretch IRA
How Roth IRA Conversions can help Minimize the Effects of the Death of the Stretch IRA
How Roth IRA Conversions Can Benefit You Even if The Death of Stretch IRA Doesn't Pass
The Death of the Stretch IRA: Will the Rich Get Richer?
The Best Time for Roth IRA conversions: Before or After the Death of the Stretch IRA?
Roth IRA Conversions and the Death of the Stretch IRA