Are Roth IRA Conversions legal? How can you change your mind after making a Roth IRA conversion?
Disclaimer: Please note that the Tax Cuts and Jobs Act of 2017 removed the ability for taxpayers to do any "recharacterizations" of Roth IRA conversions after 12/31/2017. The material below was created and published prior the passage of the Tax Cuts and Jobs Act of 2017.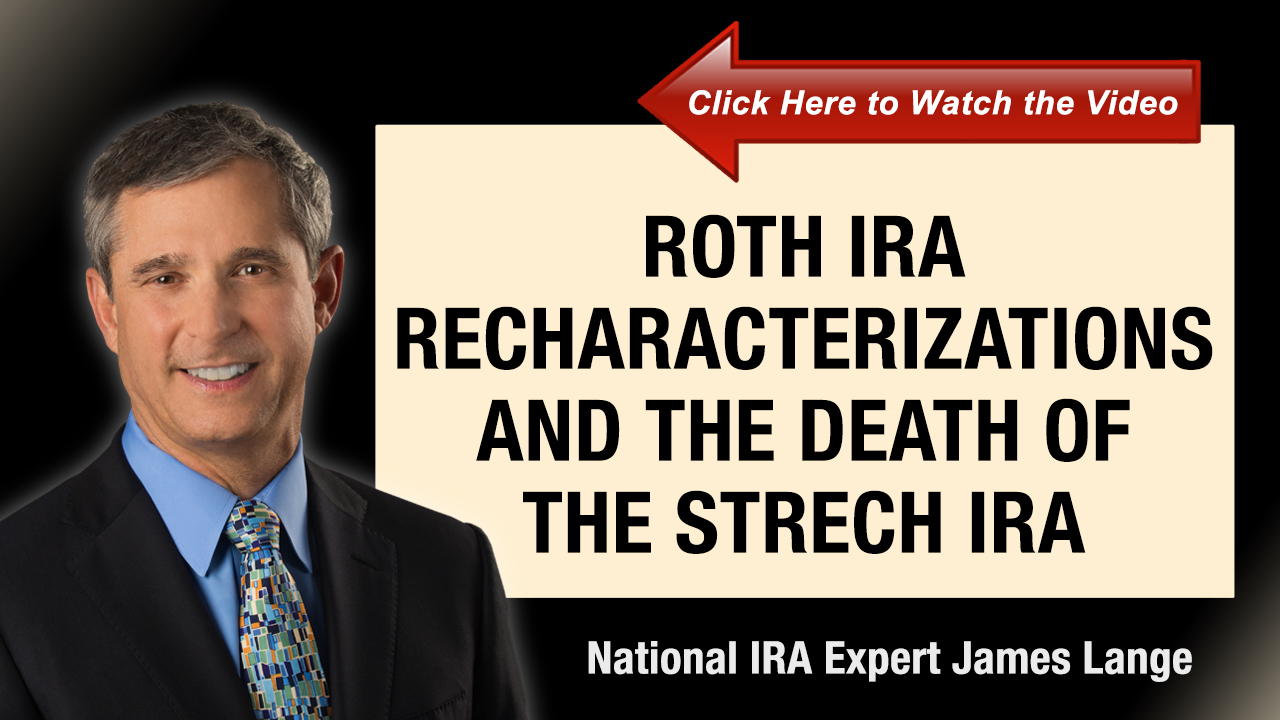 This is one in a series of posts about Roth IRA conversions and the Death of the Stretch IRA.  If you have not visited my blog before, it might be helpful to back up and read a few of the preceding posts.
Roth IRA Conversions – a Legal Way to Beat the Death of the Stretch IRA?
As you might know, I do a lot of presentations for legal and financial professionals, as well as plain old normal people, about Roth IRA conversions and the Death of the Stretch IRA.  One question that comes up a lot in my presentations involves the legality of Roth IRA conversions.  People look at the numbers I show them and say, "It doesn't seem right that you can do this because your family is so much better off.  It seems too good to be true.  Is it legal to do this?"
In order to answer that question, I'd like to refer you to this quote from Judge Learned Hand said "Anyone may arrange his affairs so that his taxes shall be as low as possible; he is not bound to choose that pattern which best pays the Treasury.  There is not even a patriotic duty to increase one's taxes.  Over and over again the Courts have said that there is nothing sinister in so arranging affairs as to keep taxes as low as possible.  Everyone does it, rich and poor alike and all do right, for nobody owes any public duty to pay more than the law demands."
I definitely do not advocate doing anything illegal – in fact, I applaud you if you were one of the people who asked the question – but, like Judge Learned Hand, I certainly believe that you should take advantage of every tax break that you're allowed to.  Would you worry about taking a tax deduction for a Traditional IRA contribution that you made, or for a donation to a charity?  Of course not!  Roth IRA conversions are no different.  They're definitely legal – they're permitted by the US Tax Code, and the IRS even has a specific form that your CPA has to use when you do one.  The problem is that they're very complicated, and most people don't like the idea of having to deal with even the most basic tax maneuvers – much less the complicated ones.   So yes, Roth IRA conversions are definitely legal, and you don't have to worry about bringing the IRS down on your head if you do one.  But I still want to talk to you about how you can possibly get hurt when you go through the process.
Roth IRA Recharacterizations – Your Safety Net
Suppose you've read my books and my blog, and you're rightly concerned about the Death of the Stretch IRA.  You convert $100,000 of your Traditional IRA, and, because you're in the 25% tax bracket, you paid $25,000 from your after-tax money.  You now have a Roth IRA worth $100,000 and your savings account is $25,000 lighter.  Then the market crashes, and suddenly your Roth IRA is worth only $60,000.  You paid all those taxes for nothing!  Or did you?
At the risk of making a complicated topic even more complicated, you need to know about Roth IRA recharacterizations.  If you make a Roth IRA conversion, the IRS gives you until October 15th of the year following the year that you made the conversion, to change your mind.  So if you make a Roth IRA conversion in 2017, and the value of your account goes immediately down, you have a fairly long time where you can wait it out and see if the market recovers.  But suppose it doesn't recover?  Well, as long as you act by October 15th of 2018, you can recharacterize, or "undo", your conversion.  I like to give my clients as much time as possible to decide whether or not the Roth conversion was a good idea, so I generally suggest that they ask for an extension on their tax return so that they don't file it before that October 15th date.  In most cases, a drop in the stock market that happens right after a Roth conversion and causes so much chagrin will work itself out within a year, and my client is happy that they made the change after all.  But if there is a long-term drop in the stock market, like there was in 2008, it is good to know that you can change your mind.  There is one thing I do want to point out, though.  If you recharacterize your Roth conversion, you'll get back the money you paid in taxes.  You won't get back the money you lost in the market – at least not because of the recharacterization.  You might get your money back eventually, but you'll have to wait until the market comes back up.
Like Judge Learned Hand said, you are not obligated to pay more tax than the law requires.  Roth IRA conversions can provide you with a hedge against the Death of the Stretch IRA, and save your family an enormous amount of money in taxes over the long term.  And the ability to recharacterize, or "undo" your conversion should give you the peace of mind in knowing that you do not pay a nickel more in tax than you have to.
Stop back soon for more Roth IRA Conversion talk!
-Jim
For more information on this topic, please visit our Death of the Stretch IRA resource.
P.S. Did you miss a video blog post? Here are the past video blog posts in this video series.
Will New Rules for Inherited IRAs Mean the Death of the Stretch IRA?
Are There Any Exceptions to the Death of the Stretch IRA Legislation?
How will your Required Minimum Distributions Work After the Death of the Stretch IRA Legislation?
Can a Charitable Remainder Unitrust (CRUT) Protect your Heirs from the Death of the Stretch IRA?
What Should You Be Doing Now to Protect your Heirs from the Death of the Stretch IRA?
How Does The New DOL Fiduciary Rule Affect You?
Why is the Death of the Stretch IRA legislation likely to pass?
The Exclusions for the Death of the Stretch IRA
Using Gifting and Life Insurance as a Solution to the Death of the Stretch IRA
Using Roth Conversions as a Possible Solution for Death of the Stretch IRA
How Lange's Cascading Beneficiary Plan can help protect your family against the Death of the Stretch IRA
How Flexible Estate Planning Can be a Solution for Death of the Stretch IRA
President Trump's Tax Reform Proposal and How it Might Affect You
Getting Social Security Benefits Right with the Death of the Stretch IRA
The Best Age to Apply for Social Security Benefits after the Death of the Stretch IRA
Part II: The Best Age to Apply for Social Security Benefits after the Death of the Stretch IRA
Social Security Options After Divorce: Don't Overlook the Possibilities Just Because You Hate Your Ex
Is Your Health the Best Reason to Wait to Apply for Social Security?
Roth IRA Conversions and the Death of the Stretch IRA
How Roth IRA Conversions can help Minimize the Effects of the Death of the Stretch IRA
How Roth IRA Conversions Can Benefit You Even if The Death of Stretch IRA Doesn't Pass
The Death of the Stretch IRA: Will the Rich Get Richer?
The Best Time for Roth IRA conversions: Before or After the Death of the Stretch IRA?
Roth IRA Conversions and the Death of the Stretch IRA
Part II: How Roth IRA Conversions Can Help Protect You Against the Death of the Stretch IRA