Why Do We Need Flexible Estate Planning?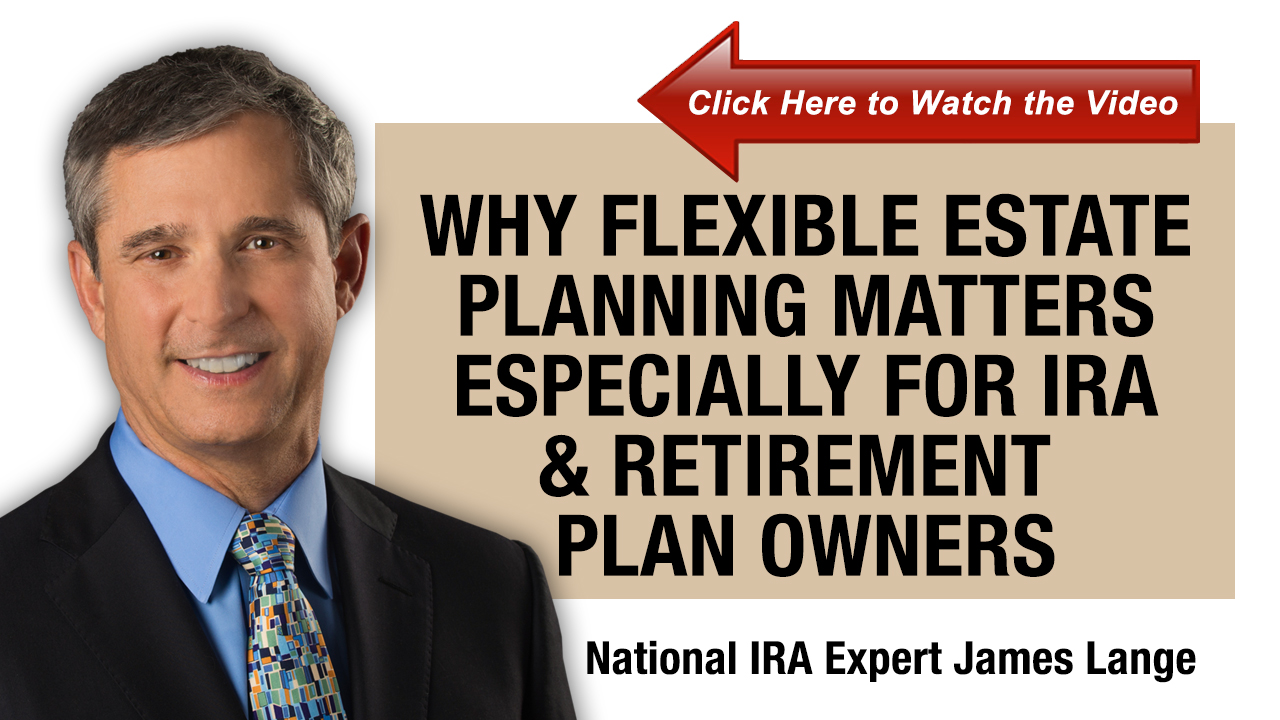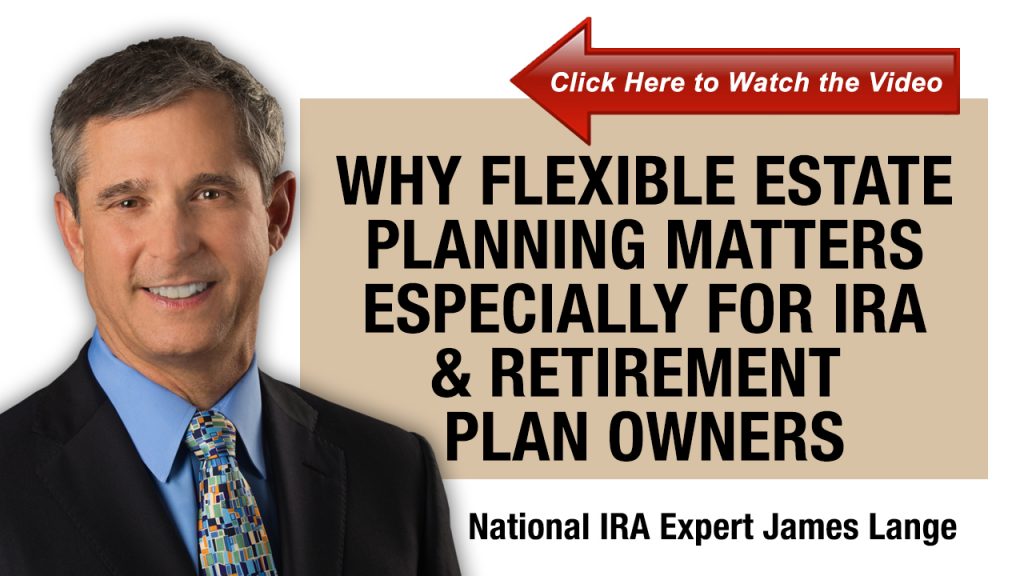 Welcome back, Friends! This is the second post in my new video series on Lange's Cascading Beneficiary Plan—the best estate plan for traditionally married couples, or what I like to call "leave it to beaver couples," in contrast to blended families where more variables come into play for estate planning.
Why do we need flexible estate planning? Why is it so valuable for IRA and retirement plan owners?  Well, to get there we must think about the unique tax features of IRAs and what happens to an IRA when you die…
Most contributions to IRAs and retirement plans are tax deferred. We will ignore Roths for now. Their status as tax-deferred investments is valuable to you and to your heirs. Under the current law, you can take advantage of a great estate planning tool referred to as "the stretch IRA." Stretching the IRA means keeping as much money as possible in the tax-deferred environment for as long as possible. We want to    allow as much of the principal in an inherited IRA to grow tax-deferred for as long as possible—currently a child or even a grandchild can stretch distributions from an inherited IRA over his or her lifetime. But, we are looking at a possible change in the laws regulating retirement plans that could really ruin that opportunity.  Having flexibility in your estate planning allows you to roll with the changes, and make good decisions under the new rules. But let's take a little closer look at how the stretch works.
Bob Smith is a married 69-year-old retiree with a million dollars in his IRA.  On April 1 of the year after he turns 70 ½, Bob must begin taking annual required minimum distributions (RMDs) from his retirement plan.  You see, the government has been letting Bob defer income taxes on his IRA contributions for many years.  But eventually, they want their share! RMDs are calculated using numbers found in IRS Publication 590. Publication 590 gives us a divisor that is based on the joint life expectancy of Bob and someone who is 10 years younger than Bob.  We see that at age 69, Publication 590 says that Bob's divisor is 27.4 (very nearly 4%).  So, when you do the math, this first year Bob must take out close to $38,000.  So, for the rest of his life Publication 590 is used to determine how much of a distribution Bob is required to take annually.
Now, when Bob dies, the ownership of that IRA is transferred to his wife, Jane Smith. Conveniently in this example, she is the same age as Bob so she begins taking her required minimum distributions exactly as Bob did.  As time goes on, her life expectancy decreases, and the distributions get larger. When Jane dies, however, what's left in the IRA will go to their children as an Inherited IRA. This is when things can get interesting.
Let's assume for discussions sake that their child, Sally, is now in her sixties.  Sally will be required to take minimum distributions as well. The difference is that her distributions will be calculated based on her life expectancy. Which, obviously, is much longer than her mother's was at the end.  So, the dollar value of the distributions drops, and the bulk of the account continues to grow tax deferred for a long time—and Sally benefits from the power of compounding.
You all know that I am a big fan of paying taxes later.  So, if you have done flexible estate planning, like Lange's Cascading Beneficiary Plan, and if you can afford it, here is an even more dramatic possibility. Since the flexible estate plan allows Sally to disclaim the Inherited IRA (she doesn't need the money), she can pass it directly to her son, Phillip (her parents' grandchild). Now, Phillip is in his thirties and his required minimum distribution is even lower.  Think of how long that deferral can run!
And, if you REALLY want to think of something incredible, imagine that this retirement plan is a Roth rather than a traditional IRA.  Now, all those distributions are tax free and we are really talking about building generational wealth.  The video with this post goes into detail about how IRAs are treated after death, and provides examples using specialized software that show how family wealth can grow using inherited IRAs and Roth IRAs—with the caveat is that this is how things work under the current law.
Unfortunately, we still believe that the death of the stretch IRA will pass in 2017 or 2018.  What is going to happen, subject to exception, is that the non-spouse beneficiary will no longer be permitted to stretch distributions of an Inherited IRAs over his or her lifetime. Any amount over $450,000 will be required to be disbursed within 5 years of the IRA owners' death. Potentially devastating! There are some work-arounds that we have devised in anticipation of the law changing but this is precisely why flexible estate planning is so critical. Enjoy the video.
See you next week!
-Jim
P.S. If you want to do a little advanced study on this topic before the next post and video, go to https://paytaxeslater.com/estate-planning/.